Awareness and money raised to benefit foster care youth
The reviews are in – the Fostering Futures charitable event was a success, raising over $220 thousand to help with educational funding for former foster care youth.
Albert and Mitsie Scaglione joined Michigan's Governor Rick Snyder and First Lady Sue Snyder along with more than 400 guests at the Sept. 25 event at the Royal Park Hotel in Rochester, Michigan. The Scagliones have long been committed to helping foster youth in the state.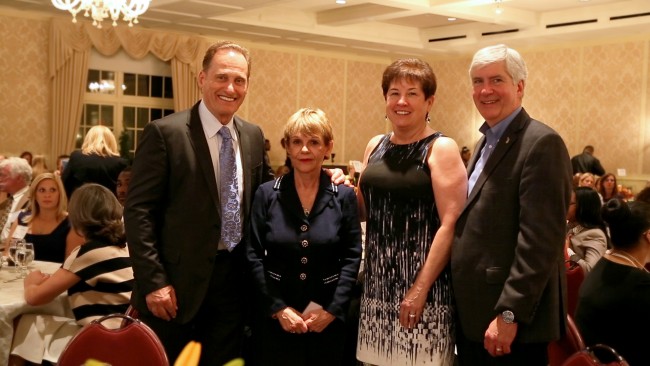 Park West Gallery's Park West Foundation was a sponsor of the event, which benefits the Michigan Educational Trust's (MET) Fostering Futures fund for scholarships awarded to eligible students who have been in the foster care system.
"The scholarship is open to all foster youth in Michigan, regardless of age," said Park West Foundation's director Saba Gebrai. Park West Foundation is committed to helping area youth who are transitioning out of the foster care system. Among other initiatives, the foundation assists in connecting youth to resources – such as housing aid and available educational opportunities.
Last year, the MET Fostering Futures scholarship made it possible for more than 400 students to attend college.
Jasmine Uqdah, a MET scholarship recipient, who is also a beneficiary of the services and support provided by Park West Foundation, was one of the young people asked to speak at the Fostering Futures event.
"You cannot focus on your grades and your tests if you're worried about where you're going to lay your head at night," she said, speaking of the worries foster youth often face. "Is it a safe environment? Is it with safe individuals and a place where you can study?
"I appreciate this scholarship so much for providing opportunities to pay for room and board," she said, adding that it's given her much-needed relief. She said in her experience as a foster youth, many opportunities seem to present themselves but then don't always come through, which becomes very discouraging.
"I thought this scholarship was just too good to be true," she said. "But it was (true) and it has been the biggest blessing." Jasmine is finishing her coursework at Oakland Community College and plans to enter a baccalaureate program in the near future.
"It could be that one thing to motivate that one foster child who thought there wasn't any hope," she said. (Jasmine's story was recently featured in the Detroit News.)
In addition to raising money for scholarships, the event is designed to raise awareness for the Fostering Futures program.
Prior to the fundraiser, youth in Park West Foundation's Blue Babies were featured in local media including Metro Parent and on WWJ Newstalk 950 Radio. Blue Babies is a youth-led initiative of the foundation that gives students in and aging out of the foster care system a place to find support, advice, resources and mentorship guidance and opportunities.
"There's army strong and then there is foster-care strong," said Brandon Foster, who also received educational support through the MET Fostering Futures scholarship and Park West Foundation. The student at the College for Creative Studies said going to school is like a slice of heaven. "There's a lot of things that could have gone wrong being in foster care, but am really truly honored and humbled that everything went right for me," he said.
Listen to the WWJ segment on the event. [mp3t track="Park West Foundation Awareness@Park-West-Foundation-Interview.mp3″ play="Start me!" stop="Pause it!" volslider="y"]
The Fostering Futures Scholarship provides eligible foster youth with scholarship funds for tuition, fees, room/board, books, and supplies/equipment required for enrollment. The scholarship is available to students on a first-come, first served basis.