Artists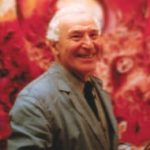 Marc Chagall's masterful, evocative works are characterized by their poetic, mystical qualities, their expressionist perspective, and their use of bold, vivid color. Chagall's style has been associated with the art movements of surrealism, fauvism, and cubism but instead of fitting neatly into one category, Chagall created a style uniquely his own.
Artwork
Sorry, no artworks matched your search
Latest News
Now considered a pioneer of modernism, 20th-century artist artist Marc Chagall risked damaging that reputation when he created a graphic series based on one of art's most ancient subjects: The Bible. The end result, however, was a series of 105 incredible etchings and engravings that many art historians consider to be one of the greatest artistic achievements in modern times. As noted art historian Meyer Schapiro put it: "If we had nothing of Chagall but his Bible, he would be for us a great mod...