Tomorrow's the day for local artist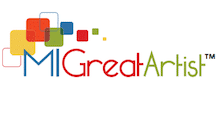 Who will win a solo gallery exhibition at the world's largest art gallery? On Dec. 12, that'll be the $1,500 question for the five finalists in this year's MIGreatArtist competition.
"This competition is a reminder that Metro Detroit is rich with creativity and possibility, and we're happy to showcase that," said Park West Gallery founder and CEO Albert Scaglione. "And what better way to support our local talent than by exhibiting their artwork in a gallery that sells and displays works created by some of the most well-known living artists and old masters?"
In addition to the monetary prize and the solo exhibition at Park West, the winner will exhibit their work at the Oakland County Galleria in Waterford, have it featured on a poster for Oakland County, and receive other business-building prizes.
Park West Gallery is providing framing for the five works entered by each of the five finalists, which are currently featured in a joint exhibit at the gallery until Jan. 3.
The 2013 finalists are Kim Fujiwara of Rochester Hills, Henry Heading of Lathrup Village, Patrick McManus of Warren, Victor Pytko of Birmingham and Weatherly Stroh of Birmingham. The finalists were chosen from 66 artists who each entered five works in the competition. Details about the program, awards and finalists' entries can be found at migreatartist.com.
The winner is selected by a combination of public vote and judging by area art experts. One finalist will be awarded the top prize at a special event held at the gallery, Dec. 12. The remaining four will each take home $375 and other prizes.
The program was initiated by Oakland County Executive L. Brooks Patterson and is designed to highlight artists in Michigan's Economic Growth Region, which includes Genesee, Lapeer, Livingston, Macomb, Oakland, Shiawassee and St. Clair counties. The online competition was open to 2-D artists ages 18 and older who live, work or attend school in these counties.