Park West Mourns the Loss of Artist Charles Bragg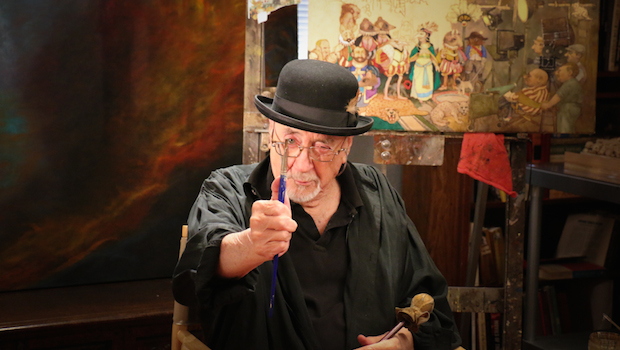 SOUTHFIELD, Mich., Jan. 17, 2017 – Park West Gallery is saddened by the loss of painter, sculptor, author and satirist Charles Bragg, who died on Jan. 9, 2017 at the age of 85.
"Charles was an American original full of wit, charm, and irreverence who drew upon the artistic endeavors of centuries past, but with a wholly modern interpretation," said Marc Scaglione, Park West Gallery president. "He is to the L.A. art scene what Babe Ruth was to the New York Yankees, and the likes of which we will not see again."
Bragg considered himself a "devoted student of the human race," creating humorous and whimsical works based on his keen observations of modern times.
Bragg was born in 1931 in St. Louis to two Vaudeville performers, whom he toured with during his young life. In 1949 Bragg graduated from New York's High School of Music and Art in Harlem. He later studied at the Art Students League in New York City before moving to Los Angeles.
Bragg held numerous jobs, including cab driver, factory worker and stand-up comedian, before pursuing art. When he arrived in California he painted for the wealthy and gave lessons — fueling the satirical outlook that later emerged in his artwork.
In the early 1960s, Bragg exhibited his works, exposing audiences to biting caricatures that poked fun at the military, clergy, and other professions. During the 1970s, Bragg began depicting more universal themes, but still poked fun at the mentality of his subjects.
Bragg was the subject of a documentary called "Charles Bragg – One of a Kind" in 1986. In 1999 he published a book on is work, "Charles Bragg: The Works! A Retrospective."  Bragg received the Gold Medal for the National Society of Illustrators and the Award of Merit from the Art Directors Guild of New York.
"You observe the human race and the world, and if you don't get a kick out of it I think you're missing something," Bragg said.
About Park West Gallery:
Founded in 1969, Park West Gallery has connected artists to more than 2 million fine art collectors through cruise ship art auctions and via its public art gallery in Michigan. Park West Gallery creates an entertaining, educational and welcoming environment that ignites a passion for the arts and offers an incomparable collecting experience.