Artists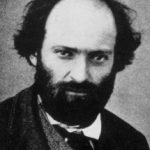 French artist Paul Cézanne was a highly influential figure in 20th century art, a pioneer in the Post-Impressionist movement, and inspiration for the Cubist movement.
Artwork
Sorry, no artworks matched your search
Latest News
When Albert Barnes obtained two Paul Cezanne watercolors, he probably didn't realize he was receiving four works by the influential French artist. Two unfinished sketches were discovered on the verso (the reverse side) of two Cezanne paintings depicting French landscape. The sketches have most likely not been seen since the early 20th century, causing the art world to buzz with excitement. Philadelphia's Barnes Foundation said the sketches – one in graphite and one in watercolor – were found dur...