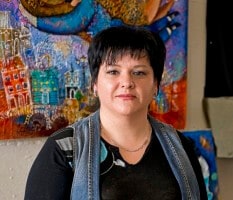 Personal History
Yulia Langer was born in Kharkiv, Ukraine in 1972. After studying Art in Skovoroda, Kharkiv National University, Yulia continued on to teach Fine Arts for a number of years. In 2003 Yulia moved to Israel, settling near Tel Aviv, and began focusing on her passion – painting.
READ MORE +
Style and Influences
Yulia Langer's canvases are a fusion of story, form and color. Romance and intimacy are reoccurring themes in her paintings, while in the background the viewer will find motifs of surrealism and naivety along with a certain musical subtext. Texture plays an important role in Langer's art, various techniques, such as collage, music scores, lace and crochet, relief work, metallic paints and gold leaf, along with an uninhibited use of strong colours, are part of Yulia creations.
In her paintings one can feel the presence of Marc Chagall, one of the great masters of the 20th century, and of the late Theo Tobiasse.  Today, you can find Langer's paintings in top galleries, and distinguished private collections throughout the world.
Exhibitions
2001—Young Artists Salon, Kharkin, Ukraine
2004—Claude Hammon Gallery, Paris, France
2005—A & E Fine Art, Ridgewood, NJ, USA
2005—Safrai Gallery, Jerusalem, Israel
2007—Shkolnik ART Gallery, Haifa, Israel
2012—Finchley Jewish Center, London, England