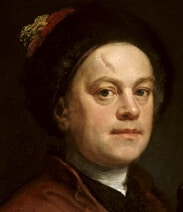 William Hogarth was an eighteenth century engraver, painter, cartoonist, and social critic that satirized the masses of London, socially and politically. He is known for his "moralizing" paintings and engravings, tracing human behavior through various social and moral experiences. In his serial stories, he showed the outcomes of situations that usually parodied the upper-class. He also focused on issues like alcoholism (Beer Street and Gin Lane) and chastity (Harlot's Progress). In Industry and Idleness, Hogarth also satires the importance of hard work over laziness.
Born in London in 1697, William's father was a poor Latin teacher who was eventually sent to prison for debt. In 1729, he married Jane Thornhill. They never had children but they fostered many, William being a founding governor of the Foundling Hospital. Growing up, he was apprenticed to Ellis Gamble, learning how to engrave trade cards and signs for shop windows. This is when William became interested in the characters of the streets and fairs, taking notice of the gruesome figures and identities within the social classes.
Hogarth lived in a time where the arts were becoming commercialized, flourishing beyond the hierarchy of the upper-classes. Just as the newly invented novel became popular, Hogarth decided to treat his compositions as a stage, telling a story through his characters and their actions. He was inspired by the morals of Dutch genre paintings and chose to create his etchings and paintings in this fashion, adding his own satire as necessary.
Hogarth died in 1764 in London, buried at St. Nicholas's Churchyard, Chiswick Mall.