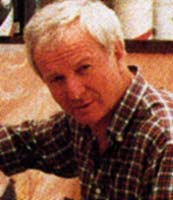 Urbain Huchet was born in Rennes, France on April 28, 1930. After studying law and owning a textile factory for four years, he decided in 1960 to devote himself entirely to painting. Mr. Huchet spent his first three years as an artist in Pont-Aven, following in the footsteps of the Post Impressionist, Gauguin, and Symbolist, Emile Bernard, both of whom influenced him a great deal.
In 1963, he moved to Paris, catching the travel bug. He journeyed throughout Europe and the Middle East, spending time in Indian markets, visiting Peru, Mexico, Egypt, and every beautiful country he could, finding inspiration in each place. He painted the scenery of each locale, culminating in a book to document his experiences.
His works are typified by a fluid and free, gestural approach to both form and color, and they are immediately recognizable. He is adept at both painting on canvas and watercolor, and is an accomplished lithographer. His subjects are diverse, but are primarily a reflection of the landscape of the Brittany region as he has a profound love for the coast. Urbain Huchet has been an exhibiting artist since 1960. He has had exhibitions in New York, London, New Orleans, Egypt, and Paris.
Artist's Exhibitions
1961 Salon de la Nationale des Beaux-Arts in Paris
1961 Select Price Othon Friesz, Paris
1961 Felix Vercel Gallery – New York
1962 Mayor of Pont-Aven
1962 Exhibition Gallery of the Bow, Rennes
1964 Exhibition Mexico
1965 Exhibition Gallery Achard de Souza, New York
1966 Exhibition Hotel Semiramis, Cairo, Egypt
1967 Chardin Exhibition Gallery, Paris
1971 Exhibition Sao Paulo, Brazil
1972 Exhibition Gallery Merl-Kup, Mexico
1973 Exhibition Fnac Etoile, Paris
1974 Exhibition Hotel Sofitel, Paris
1976 Hyatt Hotel – Singapore
1976 Exhibition Regent Hotel, Kuala-Lumpur
1976 Hyatt Aryaduta – London
1980 Exhibition Gallery Workshop, Brives, France
1981 Free De Luxe, "Impressions of Egypt", limited edition of 100
1983 Exhibition "La Colombe d'Or", Houston, Texas
1983 Portfolio, 12 Lithographs "Impressions of Houston"
1984 GALLERY GERARD WURZER, Houston, Texas
1984 Grove Exhibition Gallery, Paris
1985 Exhibition, Horizon Galleries, Houston, Texas
1985 Exhibition, International Galleries, Dallas, Texas
1987-8 Shelby Gallery – More than 30 shows across the United States
1989 Trevi Gallery, Boca Raton, Florida
1990 Golden Gallery, Snohomish, Washington, USA
1991 Exhibition, Mainichi Gallery, Tokyo, Japan
1995 Exhibition Gallery Mouvance, Place des Vosges, Paris, France
1998 Cripps and Exhibition San Germa, Ft. Lauderdale, FL
1999 Blue Gallery, Cancale, France
2000 Galerie Jean-Paul Martin, Bourron-Marlotte, France
2003 Art Gallery Dif.com, St Leu le Foret, France
2006 Gallery Mouvance, Paris, France
2010 Show-télévisé Saint-Pétersbourg – Florida