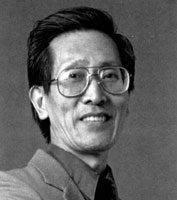 Jiang is the founder of the Yunnan School of Painting, one of the most important contemporary movements of abstract art in China. His works are richly colored and his imagery contains figurative elements with contrasting patterns. Considered to be at the forefront of contemporary Chinese art, Jiang paints as if creating stained glass windows, concentrating on women, horses, birds, and flowers through brightly colored ink and calligraphic lines.
Jiang attended the Central Academy of Fine Arts in Beijing. He studied with the renowned Chinese artist, Huang Yong-Yu. During the 1960s and early 1970s, Jiang was assigned to produce propaganda posters during Mao's Cultural Revolution. At night Jiang secretly worked on his own style.
He works primarily in watercolor and serigraphy and his works have been actively collected worldwide since the early 1980s. From 1976 to 1983, Jiang served on the board of directors for the Yunnan branch of the Chinese National Art Association. He was also a member of the Chinese Woodblock Association. Later, Jiang was an instructor and professor at the Yunnan Art Institute.
In 1979, he was commissioned by the government to paint a mural representing Yunnan Province which was installed in the Great Hall of the People in Beijing. A year later, Jiang was awarded second place in an international United Nations competition, and in 1983, he came to the United States as part of a cultural exchange program with the University of Southern California.
Museum and Gallery Exhibitions
2008 Asia Society and Museum, New York,
Shanghai Art Expo, Shanghai, China
2007 Hangzhou Grand Hall, Hangzhou, China
Ningbo Art Gallery, Ningbo, China
2006 Hangzhou Stadium, Hangzhou, China
2002 Westlake International Exhibition of Fine Art, Hangzhou, China
China International City Sculpture, Exhibition and Symposium, Beijing, China
1998 Liuhaisu Museum, Shanghai, China
Guanshanyue Museum, Shenzhen, China,
1993 California Institute of Fine Arts, CA
1992 New England Center of Contemporary Art, CT
1990-1 Everson Museum, NY
Springfield Art Museum, OH
Michelson Reves Museum, TX
Valdosta Museum at Valdosta State University, GA
Art and Culture Center, FL,
Olin Fine Art Center, PA
1989 Museum at Northeastern University, MA
1988 Connecticut College Art Gallery, CT
1987 Springfield Art Center, OH
1986 Portland Museum, VA
1985 New England Center of Contemporary Art, CT
1983 University of Southern California, CA
International Exhibition of Illustration Children's Book, Italy
1982 No. 1 Art Design Institute, Hong Kong
1981 China Fine Arts Gallery, Beijing, China
Tianjin Museum, Tianjin, China
1980 Yunnan Museum, Kunming, China
1979 The Great Hall of the People, Beijing, China
1974 Yunnan Museum, Kunming, China
1970 Yunnan Museum, Kunming, China