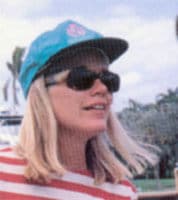 Susan Andreasen is a painter that is passionate about the environment. Through what she calls "Eco-Art," Susan works with various corporations and wildlife foundations in attempt to raise awareness about the state of the environment and elevate the status of wildlife painting to a category.
In the first two years of her life, Susan was caught up in the painting sessions of her mother, Ruth Andreasen, and in the naturalist wild life interests and outdoor pursuits of her Father. She lived in the countryside of Massachusetts and her family vacationed on the shore of Maine for three weeks every year for the first 20 years of her life.
Andrew Andreasen, her father, was a well-known electrical engineer imbued her with a profound love of all animal life and the natural environment that sustains it. Ruth Andreasen studied seven years in the Rochester, NY Memorial Museum and was a scholarship graduate of Pratt Institute. For several years she was a designer for Williamsburg Publishing Company and an instructor in watercolor and oil at the Art League of Winston-Salem, NC. She had several one-woman shows in museums and galleries across the country. Susan was deeply inspired by her mother and took to painting.
By the time she was 16, Susan was showing paintings in the local areas of northern New Jersey, receiving some initial recognition but her talents were not exclusively confined to wildlife subjects. In fact, after graduating from the Parson School of Design in New York City at the age of 20, she was engaged at the Fairchild Publications as a fashion illustrator, developing her fine art talents at home and by illustrations for other publications. She also became proficient in the field of advertising art but devoted four years to ecological observation and painting through her coastal travels and marine life observations.
In establishing herself, she subsidized donated and commissioned artwork with organizations like Friends of the Sea Otters, Earth Island Institute, Save the Manatee Club, Southern Appalachian Biodiversity Project, Greater Yellowstone Coalition, The Palm Beach Zoo, The Brevard Zoo, and the Harbor Branch Oceanographic Institution.
Her wide range of interest and concern is further shown by her activity with corporate clients such as Fidelity Federal Bank and Trust Co., Boca Raton Hotel & Resort Club, Office Depot, American Egg Board for the Easter Egg Hunt at the White House, and Norton Museum of Art.
Susan was challenged and rewarded by representing the State of Florida for the American Egg Board for two years, portraying Manatees and Flamingos from egg to maturation. She also lectured at the Norton Museum of Art, West Palm Beach, and the Boca Museum of Art on her philosophy of environmental art.
Susan is very outspoken regarding her philosophy in Eco-Art. She feels that, in the 21st century, man and art have become alienated from nature. By denying nature, man denies a part of himself. 21st century art, by also denying nature, denies man access to a portion of himself, preventing man from realizing his full potential.
As an "Eco-Artist," Susan M. Andreasen has attempted to reverse this trend. She has two goals. First, she wants fine art museums and the "Art World" to recognize wildlife art and art reflecting nature as "High Art," represented at major fine art museums and not just natural history museums. Secondly, she wants to raise awareness of endangered species and humanity's destruction of the environment, and furthermore, humanity's self-destruction.
Susan has attained her goal by fusing wildlife art and contemporary art into a new form that she calls "Eco-Art." She believes that the techniques and ideas of contemporary art can, and should, be applied to the subject matter of Wildlife art. By portraying wildlife in a contemporary manner, she has raised public awareness of the needs of the environment and hopes to break down the barrier between, "Wildlife," and "Fine Art."