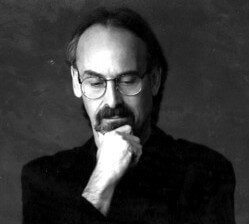 Steve Hanks believed art came from a deep inner sense of direction. For him, art was a vehicle for portraying the litany of emotions that arise from raising a family, but always with the goal of evoking positivity and comfort.
Each of Hanks' paintings contains a mystery, and reveals the emotions and stories of the artist who created them. This ability to convey emotion through is masterful watercolors connected with collectors around the world.
Personal History
Hanks was born in 1949 in San Diego, California, the child of a decorated World War II Navy flyer. He spent his youth playing tennis and surfing in the sunny weather. The Pacific Ocean left a lasting impression that would eventually resurface in his artwork.
"It was good for the soul to be out in the water—surfing, swimming, or simply getting in touch with its mysterious power," Hanks said.
At the age of 17, his family was transferred to New Mexico. Upon graduating high school, Hanks attended the Academy of Fine Arts in San Francisco, where he excelled in commercial art and figure drawing. It was during his college art classes that Hanks learned the art and difficulty of depicting the human form.
He transferred to the California College of Arts and Crafts, where he graduated with a bachelor of fine arts degree. From that moment on, Hanks knew that he would dedicate himself to making art his career.
While working as a caretaker at a Campfire Girl's camp in 1976, he devoted four-and-a-half years to experimenting with various mediums, including oils, watercolor, pencil, and acrylics.
"If I hadn't spent so much time perfecting my drawing skills, I would not be the painter I am today," Hanks said.
After suffering from an allergic reaction to oils, Hanks switched to watercolors to echo the intensity and clarity of oil paints. However, he was still missing a muse.
After marrying his wife, Laura, with whom he had three daughters, Hanks found himself inspired to convey the complexity of children. His work focused on capturing intimate moments he called "moments of introspective solitude."
"I've tried to be responsible and put positive images out into the world," Hanks said. "I hope that my work brings comfort, pleasure and insight into people's lives."
Hanks was diagnosed with cancer, but despite undergoing chemotherapy, he never stopped painting. Hanks passed away at the age of 66 in Albuquerque, New Mexico on April 22 from cardiac arrest.
Style and Influences
Hanks considered his style "emotional realism," and created works that portrayed the smallest of details, such as the patterns on a skirt to the expressive faces of his subjects, whether they were infants, children, or adults.
In contrast, Hanks would obscure the faces of his subjects, instead allowing their setting and body language to convey emotions. His wife and their children were the subjects of some of his works, allowing Hanks to share with others the beauty of love and life he experienced.
Backlighting was a signature aspect of his works, as Hanks was fascinated by how it filtered through objects and could brighten rooms with color. He once remarked that his paintings were about sunlight more than anything else.
Hanks became widely recognized in the art community for his mastery of watercolors, but could master any medium. He created stone lithographs by hand, and was famous for producing fine art with Etch A Sketch toys. At one time, thanks to his creativity, the multi-talented artist was even more recognized than his relative, actor Tom Hanks.
Accomplishments
Art for the Parks has honored Hanks' works since 1989.
Hanks Received the National Watercolor Society Merit Award and the National Academy of Western Art Gold Medal.
Hanks consistently appeared in the list of top ten American artists by U.S. Art Magazine.