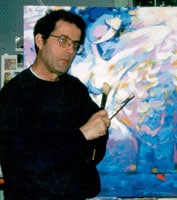 "Dani," as he signs his work, was born in Tirana, Albania. He completed his initial studies at the School of Fine Arts at the Academy of Arts in Tirana and graduated from the Tirana Art Academy in Albania in 1977. In 1980, Dani had the distinction of participating in a group exhibition at Albania's National Museum at the age of 28 and won second prize in painting at his next exhibition there, in 1983. Dani took a position as a large set and screen painter for the Albanian Film Studio Company in 1985 and remained there honing his technical skills until he emigrated.
READ MORE +
In 1991, Dani left Albania for Hungary, Austria, and Germany where he had exhibited previously. In 1993, he and his family immigrated to the United States where Dani resides today in Michigan. Dani was awarded at the Meadowbrook Art Festival and he has found a loyal collector base throughout the United States.
His work shows his dexterity and craftsmanship in his paintings, plus a rich and vibrant color palette. His subjects are diverse, including metaphorical figures in highly symbolic compositions and lush landscapes and cityscapes that celebrate beauty and nature. Most recently, Dani has been experimenting with a new minimalist approach to his paintings, producing works combining saturated planes of color with crisp geometric shapes.