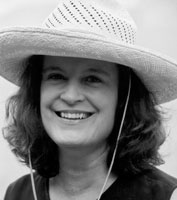 American contemporary painter, Shari Erickson, graduated with honors from the Ringling School of Art in 1970. Previously, she gained recognition as a figurative muralist in her hometown of Atlanta, Georgia. Accomplished in many media, she also became a successful art instructor, potter, and jewelry designer.
From early on, her personal focus has always been the creative contemplation of people. Sketchbook in hand, she could be found noting the gestures and body language of people in an airport, courtroom, or park. This sensibility of figure and form remains at the heart of her talent and technique.
Erickson's love of figurative painting was renewed on her first visit to the West Indies in 1979. She was beguiled by the magical, unsinkable Islands. The saturated colors and swaying people inspired a new rhythm in her work. Her vision of island society, distinguished by her coup de crayon, has quickly brought her numerous exhibitions and international collectors. Her works often portray the day-to-day intimate lives of the families, children, merchants, and vendors of the islands, providing a rare glimpse into their real world.
To lure travelers to the Virgin Islands, US Air magazine chose Shari's work for their December 1993 cover along with a feature article of her work. She has also been honored with a special award of achievement by Windsor & Newton.
Although she spends much of her time exploring the Caribbean with artist husband Douglas Kahle Gifford, many of her alkyd-oil, "A la Prima" studies are completed in their Western North Carolina studio on top of a mountain.