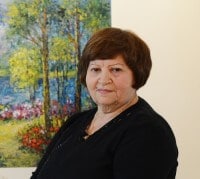 Shafira Yablonski was born on June 8, 1938 in the city of Dneprodzerzhinsk, Ukraine. When Shafira was 3 years old, World War II began and her family was evacuated to Kazakhstan. When the war was over and the city of Dneprodzerzhinsk was liberated, they returned home to the Ukraine. There, Shafira spent the rest of her childhood and adolescence and finished high school.
READ MORE +
Throughout her childhood Shafira was fond of drawing. When she was 15, she joined the art studio at the House of Culture and began learning to paint. Dimitri Polak (Polakov) who was a teacher at the art studio, introduced her to various painting techniques. After graduating high school Shafira Yablonski was accepted to the Art College and then started working as an artist with Dimitri Polak. They were married and in 1997 she immigrated to Israel where they continued to paint.
Shafira Yablonski's art is inspired by her husband Dimitri Polak, who was a famous artist. Her art is greatly influenced by the Impressionist artists.