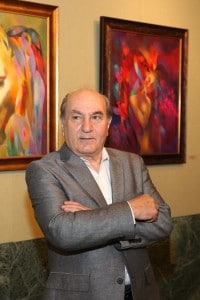 Ruben Manukyan was born July 2, 1940 in Yerevan, Armenia. He graduated from the P. Terlemezyan State College of Fine Arts in 1960, and furthered his artistic education by attending the Institute of Art and Theater, graduating in 1965.
From 1962 to 1980, he used his artistic talents as the head of the illustration department for the "Avangard" newspaper. During that time he held his first one-man show in Beirut, followed by two other solo exhibitions, and was featured alongside other Armenian artists for an exhibition in Kjoln, Germany.
READ MORE +
Ruben's works seamlessly blend clear lines and a colorful palette with a sense of optimism, purity and fantasy, attracting connoisseurs and unexacting on-lookers alike. His style draws upon decorative abstraction, yet doesn't require a search for sources. Instead, he focuses on creating an atmosphere that is all at once serious, playful and free. The artist's optimism and good-hearted nature are easily detected through his use of colorful figures and chromatic scales alongside an earnestness that invokes elegant and sometimes eclectic ideas.
Many of his works capture the elegance and beauty of the female form, giving them an otherworldly and ethereal quality by using vivid and expressive color tones. He creates worlds from another time that come to life, transporting the viewer to fairy-tale realms full of exotic creatures and characters, all while utilizing familiar faces and features. He credits growing up with the Armenian sun, trees, flowers and mountains as influences on his style and palette.
The creative works of Ruben have been seen the world over, including one-man shows and exhibitions in Canada, the United States and Europe, including the 1998 Art-Expo International in Los Angeles. Additionally, his works can be found at the Republic of Armenia Ministry of Culture Fund as well as many galleries in Bulgaria, Lithuania, Moscow, and Armenia. His works are also found in private collections throughout the world.
Aside his participation in exhibitions, Ruben has illustrated children's books that have been published in numerous languages. His work in the children's alphabet book, "Native Source," has captured the interest of many, and is widely used among Armenian children living in the Armenian Disapora.
In 1962, Ruben was awarded a diploma from the National Exhibition, and in 1987 in received a diploma in Adis-Abeba, Ethiopia. He is an honored artist of the Republic of Armenia.