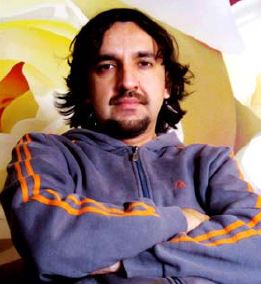 For artist Roberto Salas, it's the little things that inspire his art. It's the way light reflects off a glass of wine, the intricate designs on a wine bottle, or the texture of a sliced pomegranate. Known for his sublime realism, Salas creates romantic still lifes that intrigue collectors around the world with his warm colors and exceptional compositions.
READ MORE +
Personal History
Salas was born in Lima, Peru in 1977. From a young age Salas demonstrated outstanding artistic talent. His passion for art led him to enroll at the Escuela Nacional Superior Autónoma de Bellas Artes de Peru, a noted school in Lima. Upon graduating, he received the designation of "artista plastico" (fine artist).
Salas has held multiple exhibitions throughout Peru, and his circle of admirers continually grows. Nonetheless, Salas' style reflects a sense of humbleness and self-criticism despite his success and undeniable knowledge of technique.
Style and Influences
Salas captures a moment in time with his photorealistic paintings, forcing viewers to pause, contemplate, and admire objects that might otherwise be overlooked.
"The simplest things or nuances go unnoticed by most people," says Salas. "Yet these are the things that are astonishing."
The subjects of Salas' works vary, but he enjoys floral paintings and intricate table settings of wine, cheese, and fruit. His agile brush strokes, warm color palette, and open compositions create an inviting interplay of contrasts.