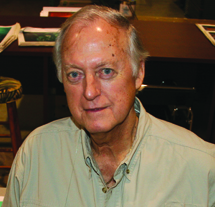 Since the 1990s, Richard E. Williams holds the distinction of being the #1 watercolorist in the world. He has sold more than 100,000 limited edition prints. His use of colors and technique of painting wet on wet creates his original style that has never been duplicated by other watercolorists. His works of art can be found in countries around the world. Richard is famous for his depictions of boats, waterfronts, birds, tropical fish, seascapes and flowers. Studying Richard Williams watercolors evokes feelings of peace and serenity that appeals to the masses.
Richard shows a delicacy and perception in his work with a distinctive style and deep concentration that has put him in great demand throughout the United States, as well as abroad. He has had numerous shows throughout the country and his work has been widely and enthusiastically accepted.
The University of Southern Mississippi honored Richard by requesting a history of his life for their Oral History Program. The original tapes and manuscripts were deposited in the University's Mississippi Room of the McCain Graduate Library. A bound copy of the manuscripts was presented to Richard during the formal acceptance ceremony and this document is now catalogued in major libraries throughout the United States. Richard is also listed in Who's Who in American Art.
His collectors include Curt Gowdy, Barbara Mandrell, Tom Jones, President Bill Clinton, Haywood Sullivan, and Carl Yastremski. During former President Jimmy Carter's Administration, Richard painted a piece for the White House collection which was presented to the Carter family.