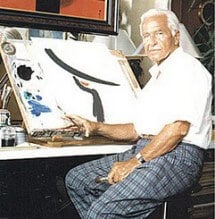 Famed fashion illustrator, René Gruau, was born Renato Conte de Savagli-Ricardelli in Rimini, Italy in 1910. Gruau's career in fashion began when he and his mother moved to Paris in the late 1920s and his illustrations appeared in numerous newspapers and magazines. Gruau also illustrated the designs of numerous fashion designers, including Balenciaga, Elsa Schiaperelli, Hubert de Givenchy and Christian Dior. Gruau shared a great friendship and business relationship with Dior – the first collection for the House of Dior was made possible, in fact, due to Gruau's insistence that Dior accept a sponsorship from Marcel Boussac, a major textile magnate.
When photography became the primary medium for fashion images in the 1950s, Gruau turned to advertising, which proved to be a highly successful venture for him. "Gruau is the bridge between the great tradition of the French poster and contemporary advertising," Jean-Paul Goude wrote in his book, The Art of Advertising. Gruau also illustrated posters for film and theatre productions, including Fellini's "La Dolce Vita" and Jean Renoir's "French Cancan."
Decades later, Gruau's sense of style, beauty and elegance continued to resonate. "Elegance is fluid and therefore difficult to define but it is made of desire and knowledge – of grace, refinement, perfection and distinction," Gruau once said.
His work was displayed in a one-man exhibition at the Musée du Costume at the Palais Galliera in Paris in 1989, and at the Musée de la Publicité in Paris in 1999. His illustrations began to reappear in magazines in the late 20th and early 21st centuries, as well as advertising campaigns for Air France, Omega watches, and Fiat.
René Gruau died in March 2004 but his legacy continues. A permanent collection of his work is displayed at the city museum of his birthplace in Rimini, Italy.