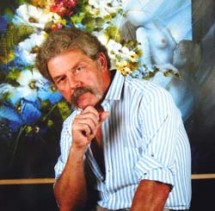 Raymond Poulet was born in Paris in 1934. Trained at the Ecole des Arts Decoratifs in Paris from 1952-1954, Raymond Poulet has exhibited in some of that city's great salons, including: the Salon des Independants, the Salon d'Automne, and the Salon des Artistes Francois, of which he became a member.
During this period, his paintings were non-figurative in conception. While being extremely well constructed, however, they were created of an essential sensitivity. Light and color, which are indispensable to the equilibrium of painting, become the constants in his work.
Since the 1950s, Poulet has never stopped painting, designing and creating – always in search of external renewal. He has been inspired by his travels to the United States, Mexico, and Asia and has participated in numerous prestigious and celebrated exhibitions, as a solo and with groups, on four continents.