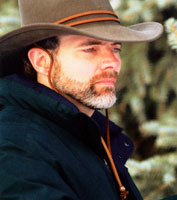 Pat McManus has been painting wildlife and landscapes since the mid-1980s. His paintings explore the beauty of nature that he directly observes and photographs, and are best known for expertly capturing the mood and energy of his subjects.
McManus has received numerous awards for his paintings and his work has been featured on the covers of several magazines. His paintings are collected around the world by art lovers and nature enthusiasts alike.
READ MORE +
Personal history
For as long as he can remember, McManus has had a passion for wildlife and nature. As early as elementary school, McManus recalls diligently drawing horses and other animals.
"I just always have been attracted to wildlife," McManus says. "I always knew I was going to be an artist."
In 1977, McManus attended college, studying graphic and fine arts. McManus later worked as a photo editor for an art studio that edited high-end car catalogues.
The time McManus spent editing and retouching photos helped further develop his artistic talents. His job required him to airbrush photos by hand and execute precise color matching, which he found to be invaluable skills in creating his own original paintings.
"When I started doing my artwork, it really helped me to mix my colors because I could match any color that I had to," McManus says.
When computers became commonplace for retouching photography, McManus went on to work as a graphic designer for AT&T. For the next 21 years, McManus worked as a commercial artist, but spent his free time immersed in his wildlife paintings.
Around this time, McManus joined a nature photography club. Along with helpful critiques from the club's experts, McManus also picked up many photo editing techniques that ultimately led him to a new process for creating his wildlife paintings.
"That taught me a lot about design—what was good to put into a picture, what I should crop out, and different ideas of how to attack your subject matter—trying to think out of the box," says McManus.
In 2014, after being recognized as a finalist in the MI Great Artist visual arts competition, McManus became a full-time artist, which he describes as "a dream come true."
Currently, McManus and his wife, Mary, as well as their three children, reside in Michigan.
Style and influences
McManus describes his paintings as a cross between realism and impressionism.
"I like my animals and landscapes to look real, but not necessarily exactly like a photo," McManus says. "I like to soften the edges, giving it different textures throughout the painting."
While McManus paintings do not depict the exact images from the photographs he takes, he still relies on his pictures for inspiration, using them as building blocks in constructing his paintings.
"Painting wildlife, the animals never sit still. That's why wildlife artists tend to use photography to freeze the action," McManus says.
McManus takes thousands of photos to use in his paintings before determining how to use each subject or landscape. During a trip to Utah, McManus took more than 3,500 photos as the foundation for just two paintings.
"Each photo is a little inspiration—a seed that can become a painting later," says McManus. "I might just shoot a photo of a log or a rock that will be used for a later painting."
McManus utilizes his computer to enlarge and rotate his photographs to match subjects and animals with landscapes before he begins sketching his compositions. His goal is to create the "most pleasing design possible" for his audience.
"I don't copy the exact photos for my paintings," McManus says. "I use portions of many photos to make a work of art."
McManus draws inspiration from artist Richard Schmid, who is considered to be one of the greatest living painters of representational art. In 1997, McManus decided he wanted to paint like Schmid and took a three-day workshop led by his artistic hero. Through Schmid's encouragement, McManus made the switch from using acrylics to using oils.
McManus explains that he prefers oils because they dry more slowly and allow him to achieve softer edges and more varied textures.
"With oils, I can get the textures I want, and I like the look of the oils when they are dried—they seem to have a glow about them," McManus says. "I also love the history of oils—that the Old Masters always painted with oils, too."
Once a painting is nearly complete, McManus photographs his paintings and uploads these photos to his computer to determine if he approves of the colors and textures.
"Looking at the image on the computer helps bring out the light and the shadows so you can see more details," he says.
McManus hopes that his collectors experience the same passion and inspiration he felt when witnessing his subjects out in nature.
"I'm trying to make memories for people and bring the outdoors indoors, so when you get back from a busy day, you remember the beauty that's out there," McManus says.
Accomplishments
In 2009, McManus received the Grand Prize in the 2009 Paint the Parks Competition hosted by Paint America.
In 2013 and 2014, McManus was a finalist in MI Great Artist, a Michigan-based art competition for visual artists, where a panel of art professionals selects four finalists and one winner among the many entrants.
In 2016, McManus was selected as one of the "Mini 50" winners in a competition hosted by Paint America.