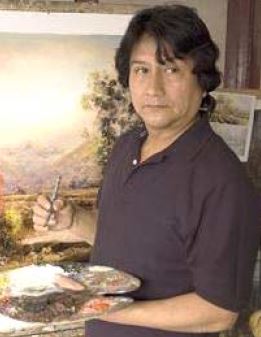 As the descendant of a long line of fine artists, Pablo Muñoz brings the traditions of the Spanish masters of the past into contemporary times through his brilliantly-lit vistas and scenic landscapes.
Personal History
Muñoz was born in Cuzco, Peru in 1965, the son of a family of painters who immigrated to Lima, the country's capital. Muñoz claims his ancestors assisted many of the famous Spanish artists who came to Cuzco in years past. These artists were sponsored by the Spanish elite to spread the word of God through religious art. Muñoz sharpened the skills passed down through his family by studying at the School of Arts of Cuzco.
READ MORE +
Muñoz's artistic message is philosophically profound: that light guides one through the mysterious, often dark journey of life. This light guides the traveler through a dark terrains and gives the incentive to complete the journey—pointing the way to its end.
Style and Influences
Muñoz's technique—perfected and passed down from generation to generation—is a classical style concentrating on lush and serene landscapes. His style incorporates the drama of the Old Masters and the light and loose brushstrokes of the Impressionists.
Muñoz's paintings are simultaneously inviting and foreboding, with ribbons of light and flashes of intense color piercing through darkened skies. Muñoz guides the viewer's eye through dark fields and forests with a mysterious and serene light.
Along with his enchanting landscapes, Muñoz is known for his depictions of the majestic peacock. Their decadent beauty and iridescent feathers are perfectly at home in Muñoz's classical style, evoking the bird's traditional symbolism of royalty, rebirth, and pride.
In a Muñoz painting, one can typically find a sense hope and optimism characterized by the contrast between lights and shadows.
Accomplishments
Muñoz's paintings are housed in many prestigious collections throughout Peru, the United States, Canada, and Europe.
Muñoz's exhibitions include: Cuzco Art Gallery (1979), the National Association of Artists and Writers, Lima (1980), the University of Saint Mark Gallery (1981), the National Association of Artists and Writers (1984 and 1985), and the Cuzco Art Gallery (1985, 1986, and 1987).