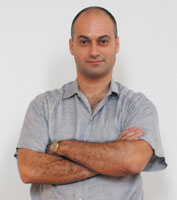 Misha "Michael" Lenn was born in St. Petersburg (Leningrad), Russia in 1962. He graduated with a Masters of Fine Arts degree in graphics and advertising from the prestigious Mukhina Vocational Art School in 1984. At a very early age while studying music, he found that he had an inclination to draw. With his mother's support, he made the switch and has not looked back since.
READ MORE +
After graduation, Misha became very well known in Russia. His name was associated with many prestigious Russian events, including beauty pageants, music festivals, and ballroom competitions. During this time he was participating in international events in Germany, Italy, and Finland.
Misha has developed a very distinctive style of watercolor painting. His favorite motifs are figures, still lifes, and city scenes. The complex patterns of Klimt, the elegance and grace of Degas, the romantic verve of Renoir, the technical command of Monet, and the vibrant energy of Toulouse Lautrec have been his primary influences. Impressionism permeates his work. Misha's musical interest still manifests itself when he plays the jazz piano and in his art in the form of musical scores collaged into his paintings – an element that's become his artistic trademark.
In 1990 he came to the United States and he quickly distinguished himself in the fields of fashion design (Donna Karan and Calvin Klein), graphic design, and fine art. Among his clients are: the New York Times magazine, Sony, Design Times Magazine, the Boston Ballet, Prudential Insurance Co, MIT, Bloomingdale's, and Women's Wear Daily. His imagery has graced the covers of 11 Godiva Chocolate boxes. Misha's portfolio also includes book illustration literature (75 illustrations of novels of John Steinbeck) and cover spreads for major publishers, such as Houghton Mifflin and Heinle and Heinle. Misha has been chosen as the official artist for the Westminster Kennel Club and done illustrations for the organization in 2004 and 2005. He has held successful exhibitions which have included prestigious galleries in London, Moscow, St. Petersburg, and Monte Carlo, as well as throughout the United States.
He has received numerous awards in excellence, logo design, and national competitions, including: American Graphic Design Award, 1995; Regional PRINT Magazine, 1995; Best of Business Card Design, 1996; Letterhead and Logo Design, 1997; Best of Watercolor, 1997; and, Watercolor Expressions, 1999. Westminster Kennel Club selected Misha to be their artist for two seasons (2004-2005). Godiva Chocolatier now offers gift boxes with Misha Lenn images around the world (11 images all together). In October, 2005, Lenn was awarded the Premiere 2005 ARTV "Best Watercolor Artist" Award in Las Vegas.
Misha is active in supporting a variety of charitable causes and often donates his works for fundraising auctions and events. In the midst of all of his success, however, he still finds time to instruct at Lasell College in fashion illustration, sharing all that he knows.