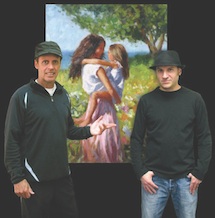 The artwork of Michael Vincent is a unique collaboration between painters Michael Maselli and Vincent Silvano. Together, the artists have achieved a remarkable and impressive quality of work, merging and enhancing their two unique styles.
Collaboration has always existed among artists in some form. Art history has many examples of famous collaboration – from Rembrandt with fellow Dutch artist Benjamin Gerritsz Cuyp; to Gauguin and Van Gogh (where the artists often painted together and inspired each other's work).
Famous artists of the Renaissance and other eras had "studios" where much of the actual work was done by teams of large apprentice artists. In recent years, there were collaborations, including Jean Michel Basquiat, Andy Warhol and Francesco Clemente's joint painting efforts.
Some art critics still believe the first impressionist painting of the Seine was a collaboration between Monet and the old man that he would frequently visit in England (British master Joseph Mallord William Turner).
It is possible that destiny brought Maselli and Silvano together; as the two seemed to be living parallel lives with poignant commonalities. The two met at a blues guitar jam session in Los Angeles, and had an instant connection. It was soon discovered that their grandfathers both hailed from the same province outside of Rome, Italy. Both were born and raised on the East Coast, and their wives lived blocks from each other in New York City during the same time in the 1980s.
In the past decade Silvano has received tremendous recognition for his life size murals. He studied at the Cal Art Institute and Art Students League. Michael Maselli has been actively involved in tandem painting and drawing sessions with several well-known contemporary artists over the past 15 years, but considers himself a self-taught artist.
Maselli and Silvano share a similar aesthetic vision and affection for figurative painting. While their individual styles vary (Silvano leans toward a refined, classical technique, while Maselli paints in an exuberant abstract-impressionistic style), together they merge beautifully.
They are highly skilled in their use of "Chiaroscuro", an Italian term describing contrast between light and dark, to achieve a sense of three-dimensionality, especially in regards to the human figure.
Their paintings are heavily textured and modeled after the old masters. Each painting begins with a drawing in pastel pencils, and is slowly built up. The result is luminous and captivating, fusing modern impressionism and classical technique. This unusual partnership between the artists is based on mutual trust and appreciation, a perfect and unselfish balance.