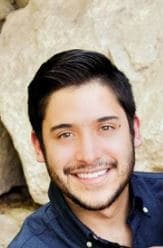 Michael Romero is best known for his textured, brightly-colored paintings created in a style of his own invention.
By using a copper wire tool he designed himself, Romero drizzles hundreds of layers of vivid paint to create sleek, textured works that redefine the beauty of a sunset, the tranquility of a babbling brook, or the romance of a stroll through the park.
Romero's artwork is collected worldwide and displayed in galleries across the United States.
Personal History
Born on January 29, 1992, Romero was raised on a ranch in Santa Fe, New Mexico, where he spent most of his time immersed in sketching. Recognizing his early artistic talent, Romero's family supported his gift with art supplies and positive encouragement.
Romero's artistic career began to take form at the age of 20. In 2011, Romero's family members suggested that Romero pursue his artistic talent more seriously. Although he had only worked with a pencil up to that point, Romero took his family's advice and began learning about other artistic mediums.
Instead of enrolling in an art class, Romero scoured the internet for information about painting. After watching videos from talented artists, Romero decided to dive into oil painting. During his artistic research, Romero became deeply inspired by the innovative artwork of Jackson Pollock and Claude Monet. The success of these ground-breaking artists motivated Romero to invent his own style of painting.
Just three months after he started painting, Romero experimented with different techniques and styles. After many failed attempts, Romero discovered using a tiny coil to drizzle his paint onto the canvas created the effect he hoped to achieve—combining the styles of Pollock and Monet.
"I want to bring a new era in the art world, where abstract no longer has to be questioned or dismissed as an un-thoughtful, untrained form that just anyone thinks they can create," Romero says. "The viewer will look at my abstract work and understand what they see."
Romero continues to paint and reside in Santa Fe.
Style and Influences
Inspired by Pollock, Romero embraces the Abstract Expressionist style of drip painting. By combining this technique with Impressionism, Romero uses drizzled paint to construct compositions with an emphasis on light. Despite its abstract roots, Romero's imagery often features realistically-depicted subjects.
Romero begins by laying a canvas flat and drizzling paint onto it, blending it together to create a backdrop. Once it dries, he begins building the composition by dripping and drizzling paint with his specialized tool. After the first layer is applied, Romero will wait 10 to 15 minutes before adding another. Romero continues to drizzle and blend until he achieves his desired effect—a stunning, textured work of art.
Romero jokingly refers his artwork as a "tragedy" when viewed up close. The splashes of color drizzled across the canvas appear to be randomly splattered. However, by taking several steps back, Romero's paintings take shape: trees, flowers, or streams appear from the chaotic squiggles.
For Romero, his technique mimics the hardships of life.
"We reach the end of our journey and only then do we look back at our lives, proud and insightful with everything we have gained and learned from our faults, hardships and failures," Romero says.
Accomplishments
Romero's entry into the 2017 ArtPrize art contest in Michigan, "Imagine," was in the top 20 among thousands of entries.