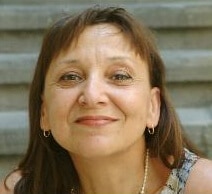 Maya Green believes her artistic talent is a gift. Her mission is to share that gift with as many people as she can.
Drawing inspiration from the scenic city of Tiberias, Israel, Green uses oil paint and an impasto technique to capture moments in time, portraying serene landscapes and bouquets of vibrant flowers.
Her artwork has been admired in multiple exhibitions and is found in private collections worldwide.
READ MORE +
Personal History
Green was born in 1957 in Donetsk, located in Donbass, Ukraine. She grew up surrounded by dull gray architecture, causing her to wish she could add color to the industrial city's buildings. This, in part, is why Green was drawn to art from a young age, specifically with the interaction of color and light.
Green studied at the School of Art in Ukraine, and was later accepted into the Donetsk Art College, where she received a degree in art studies in 1978.
In 1996, Green immigrated to Israel and settled in the city of Tiberias, located in northern Israel on the banks of the Sea of Galilee. The Galilee region is renowned for its picturesque landscapes, and often becomes the subject of Green's works. The energy of the city inspires her to paint. At first she used this inspiration to paint in a classical style, but later transitioned into a more expressive style focused on pure colors and the use of a palette knife instead of a paintbrush.
To Green, art isn't an occupation, but rather an instinctive state of mind. She uses this instinct to create paintings that evoke happiness and kindness.
Green has traveled to and lived in many locations around the world, including Russia and the United States. She currently resides and maintains a studio in Tiberias.
Style and Influences
Green aptly uses a palette knife to achieve her signature impasto technique. By applying oil paints in bold colors, she transforms her sketches of northern Israel into colorful, textured landscapes. In her paintings she emphasizes composition and contrast, especially between light and shadow and the subtleties of the four seasons. Her favorite color to use is ultramarine—a mesmerizing hue that reminds her of the sea and sky.
Since her origins as an artist, Green has found inspiration in both Henri Matisse and Vincent van Gogh for their use of light, shadow, color, and space.
Israel's Galilee region is full of blooming flowers in the springtime, which inspires Green to portray colorful flowers and floral bouquets in her works. Through her mastery of composition, Green imbues her flowers with the beauty and tranquility of the blossoms surrounding her home.
Considering herself a global citizen, Green draws upon memories from her travels, including the time she spent living in New York. She became deeply fascinated by the city's music scene, and developed her own visual language to portray the energy of a live performance.
"I seek to complement the moments I encounter," Green says. "I attempt to break down life to its visual essentials: light, dark, balance, movement, tone. In doing so, perhaps I can reveal a new perspective."
Green considers a painting complete when the idea she is expressing matches her thoughts. She says if somebody views her artwork and experiences something personal, she is satisfied with her work.
Because she applies thick patches of oil paint directly to her canvases, many of Green's paintings can take up to seven months to completely dry.
Accomplishments
Green won three different awards in 2009 for her art, including the Honourable Award/Diploma of Excellence from the Art Addiction Museum, the Award Winning Artist from the TEOBS Foundation, and the Bronze Cup Award for "Best Valuated Artwork" from the Nogena Global Art Platform.
Many works by Green are in private collections in Russia, Israel, Scotland, the United States, and Japan.
1991: Donetsk Museum of Art, Donetsk, Ukraine
2000: Chagall Art Center, Haifa, Israel
2002: The Scots hotel gallery, Tiberias, Israel
2005: IV&V Orlov Designers, Los Angeles, California, United States
2006: Jewish Community Center Saint Paul, Minnesota, United States
2007: BLD Fine Art, Teaneck, New Jersey, United States
2008: Artexpo New York, New York, United States
2009: Dan Gallery, Tel Aviv, Israel
2010: Safrai Gallery, Jerusalem, Israel
2012: Finchley Jewish Center, London, England
2013: Artexpo New York, New York, United States
2014: Affordable Art Fair, Hong Kong
2014: Charles Bronfman Auditorium, Tel Aviv, Israel
2014: KIAF, Seoul, South Korea
2015: India Art Fair, New Delhi, India