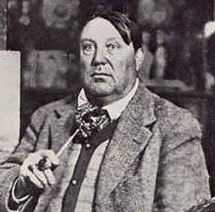 Along with André Derain and Henri Matisse, Maurice de Vlaminck is considered one of the principal figures in the Fauve movement, a group of early 20th century modern artists united in their use of bold color.
Vlaminck was born in Paris on April 4, 1876. He was a self-taught artist who proudly shunned formal academic training, aside from drawing lessons. He first pursued a musical career, much like his parents, both pianists. However, his career path ultimately changed in 1900, after a chance meeting with painter André Derain during a train accident.
In 1901, Vlaminck saw an exhibition of Vincent van Gogh's paintings, and like Derain and many other young artists, he was struck by van Gogh's powerful brushwork and use of intense colors. That same year, Derain introduced Vlaminck to Henri Matisse. Vlaminck was soon experimenting with pure, intense color drawn straight from the tube and applied in thick daubs. He exhibited with Matisse and Derain in 1905 at the Salon des Indépendants and at the controversial group show at the Salon d'Automne. It was at the latter exhibition that critic Louis Vauxcelles called these artists fauves ("wild beasts"). The eventual acceptance of this new painting style was reflected in the acquisition of Vlaminck's entire work by art dealer Ambroise Vollard, who also arranged the artist's first one-man exhibition in 1906.
Impressed by a retrospective exhibition of Paul Cézanne's paintings in 1907, Vlaminck began to emulate the Post-Impressionist artist's work. His artistic work was interrupted for four years in 1914 when he was drafted into the war. After his release, he left Paris and moved to the countryside, where he painted rural scenes in a dramatic yet mannered style. He adopted a more subdued palette and turned to painting landscapes with solid compositions. His work was honored in numerous international exhibitions during the 1930s.
The last years of Vlaminck's life were determined by his friendship with Swiss doctor Sigmund Pollag, who collected the artist's graphic oeuvre and donated it to the Kunstmuseum Bern in 1970. Vlaminck wrote more than 20 books, including autobiographic texts. He died peacefully in France on October 11, 1958.