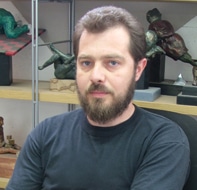 Mark Kanovich was born in Tbilisi, Georgia, on May 1, 1970, and now lives and works in Tel-Aviv. The world of Kanovich is one in which man is constantly seeking love, beauty, warmth, humor and generosity. His fantastic realism focuses on dimension, movement and form, staging his figures through unique and sharp perspectives and unusual and innovative techniques, which fuse sculpture and painting. While his work is clearly inspired by the works of Chagall, Kanovich's images are equally romantic but often invoke a poignant sense of longing.
Kanovich's great-grandfather was a wealthy carpet salesman who was very orthodox in his beliefs. He met his wife in Warsaw and took her back to Tbilisi. Mark's great-grandmother was an extreme communist – quite different from her husband, but the marriage endured and this contrasting family history affected Mark's work throughout his life.
READ MORE +
Mark developed his artistic qualities from a very early age. He studied architecture at the University and at 18 he was forced to join the army according to a new law which made military service mandatory for students. He was recruited to design information centers. One day he designed a poster of Lenin that the commander in chief at the time disapproved. He thought the image was ridiculing the great leader. Kanovich was placed in military jail for a few days. This episode had such an effect on him that he made an oath never to draw anything political for the rest of his life.
At the end of his military service he spent another year at the University, and then decided to make "Aly'ya" – to immigrate to Israel. He moved to Israel in 1992 and studied art at the Avni institute in Tel-Aviv. His tiny studio apartment was dark and cold; he had to work three different jobs to support himself, painting his own art at night. Adjusting to a new life in a small, unfamiliar country was difficult and Mark's extraordinary success was due to his hard work and dedication.
His current studio resides in a former Kibbutz and British Military office. There he works each day with other artist and friends, including Yaacov Agam, David Najar, Yuval Wolfson and until his passing in 2012, Itzchak Tarkay with whom Mark was very close, and who mentored him and supported his career.
His work has been shown at various museums and galleries, including the History Museum in Tbilisi (1991); "Kikar" gallery in Jaffa (1994, 1997); The Art Center in Rishon Le-Zion (1995); "Danon" Gallery in Tel-Aviv (2000); "Jerusalem Theater" in Jerusalem (2002); Ribak's House Museum in Bat-Jam (2003); and the Bible Museum in Tel-Aviv (2005).