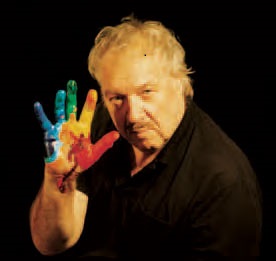 World renowned artist and sculptor Lorenzo Ghiglieri (1931-2020) has creations gracing the most prestigious museums and art collections around the world, including the White House, the Vatican, the Kremlin, and the Royal Palace in Madrid, among others. His sculptures and paintings have been presented to dignitaries like Ronald Reagan, Al Gore, Mikhail Gorbachev, Pope Paul II, Queen Elizabeth, and Luciano Pavarotti.
PERSONAL HISTORY
Raised in Southern California, Ghiglieri was the son of an Italian sculptor and a French artist. He grew up in a world of ethnic blends that enriched his understanding of world culture. After receiving formal art training, Ghiglieri went forward on his own to study the Old Masters. At the age of 17, he was awarded a prestigious art scholarship, at 20, he was working on national accounts, and by 22, he was commissioned to paint what became a gift from the U.S. to Great Britain for Queen Elizabeth's coronation.
Over the next few years, Ghiglieri won numerous national awards in design and illustration and, after a nationwide search, was invited to paint scenes for the international biblical epic, Earth: Theater of the Universe. During this two-year period of solid devotion, Lorenzo produced a spectacular 100-foot rendition of the earth's history according to biblical tradition that incorporated close to 400 figures, most of which were posed and painted from life. The results of his inspiration have been thrilling thousands who have attended gallery and screen presentations of his work.
After years of primarily working on paintings, Ghiglieri shifted his focus to sculpting in 1974. He began working with bronze, utilizing a medium that involved applying clay or wax to an armature (a supporting wire or tubular framework) as the foundation for his sculptures.
Ghiglieri regarded himself as a storyteller and worked in a style he related to baroque realism. He employed the centuries-old "lost wax" method to produce his precise, life-like sculptures in bronze, silver, and gold. The process began with the creation of his conceptual sketches, which were used as the inspiration for the first-pass of his new sculpture rendered either in clay or wax.
The remaining steps involved making the mold, creating the wax shell, dipping the mold in the slurry silicone mixture, burning the wax out, pouring the bronze, finishing and tooling the sculpture, and applying the final patina finish, which usually took approximately eight weeks from beginning to end. In the case of Ghiglieri's larger monument-sized sculptures, it could take a year or longer to produce the finished product. Ghiglieri eventually aligned himself with the Michelangelo sculpture foundry in Oregon to realize his visions in bronze and, today, his monumental sculptures can be found all over the world.
Perhaps most notably, at the age of 63, Ghiglieri sculpted the "Official American Bald Eagle" which is now part of the permanent White House collection. Ghiglieri passed away in 2020, but his incredible legacy of art lives on to this day.
If you interested in collecting the art of Lorenzo Ghiglieri, you can contact Park West's gallery consultants at (800) 521-9654 ext. 4 or sales@parkwestgallery.com
Latest News About Lorenzo Ghiglieri