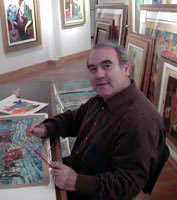 Born in 1938, in Sulmona, Italy, Littorio del Signore and his family have been living in Montreal, Canada since 1978. He first studied with the master Panfilo Del Beato from Sulmona and then with J.P. Serralongue at the Ecole des Beaux-Arts in Annecy, France, where he obtained a diploma with honors.
Del Signore's oil paintings are in numerous private, public, and corporate collections in Europe and America, including the Pinacotheque and City Hall of Chieti, Italy, the City Halls of Lasalle, Quebec in Canada, the Gallery of the Museum of Montreal, the Kaspar Gallery of Toronto, and the private collection of musical artist, Celine Dion.
His work is characterized by a superb, highly refined technique, which masterfully captures the play of light and shadow over his subjects. His favorite imagery includes children at play, beautiful young women amidst nature, and classical landscapes and cityscapes of old Montreal.