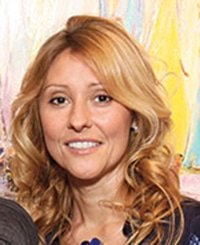 Kalinka invites viewers into a vivid world of bright, swirling colors and emotion. With a technique informed by the Parisian artists she met in her youth, Kalinka paints expressive landscapes, seascapes, and lush flower arrangements that she refers to as pieces of her soul.
Having dedicated herself to visual art in 2007, Kalinka has since gained an international following and her art is collected around the world.
Personal History
Kalinka was born in Paris, France in 1977. She grew up in an artistic family and in an artistic milieu, surrounded by artists, musicians, dancers, and painters. Her mother was a highly regarded ballet dancer, and her grandmother was an opera singer. Consequently, her first artistic endeavors centered on music and dance. She studied ballet, cello, and piano, but ultimately, through her own desire and the urging of her father—an acclaimed painter—Kalinka decided to pursue visual art.
Her family traveled extensively, residing in Vallauris, in the south of France, Paris, Paraguay, and the United States. At age 15, while living in Vallauris, she began to assist her father in coordinating exhibitions of his artwork. During this time, she met Marina Picasso, the granddaughter of Pablo Picasso, and photographer Andre Villers, whose photographs of Picasso are internationally renowned. These relationships had a profound effect on Kalinka's determination to continue as an artist.
In Geneva, Switzerland, Kalinka exhibited at Sketch, the renowned gourmet restaurant. It was there that she met and befriended the famous French actor Charles Aznavour, who encouraged the young artist to remain on her path toward professional success as a painter. During that period, Kalinka developed her second great passion—cooking. She claims that her love of art and cooking fuel one another. The mixture of materials and colors in both art forms allows her to bolster her imagination, experimentation, and intuition, all characteristics that she finds essential to the creative process.
In 1998, Kalinka met her husband, Olivier, at an exhibition of her works in Brussels, sponsored by the king and queen of Belgium. The couple settled in Brussels, where she gave birth to her two sons, Matthias and Thomas. In 2007, after several years of dedicated motherhood, she returned to her artwork with exhibitions in Waterloo and Knokke, a famous seaside resort on the Belgium coast. She also participated in the famous "Little Van Gogh" exhibitions in Europe, which brought together recognized artists from Belgium, France, and Germany.
In 2012 Kalinka joined Park West Gallery, allowing her to present her works to a broad range of international collectors through cruise ship galleries and VIP events in the United States and abroad.
Today, Kalinka resides in Belgium with her family and continues to pursue her twin passions of painting and cooking. Her vivid, bold, and colorful oils on canvas continue to delight enthusiastic collectors from all over the world.
To her vast number of fans and collectors worldwide, she conveys this message:
"When you buy art, you buy hundreds of hours, hopes and failures, months of frustration and moments of pure joy. You do not buy an object. You buy a piece of one's heart, a piece of one's life, and a piece of the soul of these artists."
Style and Influences
Kalinka works exclusively with mixed media, palette knives, brushes, and paint rollers. She was exposed to many of the famous and influential artists of the modern period who resided in the south of France, the so-called "School of Nice," an influence she carried into her own art. She also met several modernist masters at exhibitions in the region, including Fernando Botero, Aramand, and Cesar.
Through her parents' association with the Mayor of Cannes, she met the painter Bernard Buffet and enjoyed many conversations with him about art and life. These relationships shaped the young artist's sensibilities, and she remembers them fondly as formative experiences in developing her own artistic vision.
Paris also became an important source of growth and inspiration for Kalinka. On her trips to the city to visit her grandparents, she spent many hours exploring the Louvre and the Centre Georges Pompidou museums, immersing herself in serious study of the masters.
At the end of the 1990s, she was invited to show her works at the Pierre Cardin exhibition space, where she met the great designer himself, which had a significant impact on her evolution as an artist.
Accomplishments
Has showcased her work at Espace Pierre Cardin in Théoule-sur-Mer, France; Hotel Majestic in Cannes, France; Hotel Crans Ambassador in Crans-Montana, Switzerland; and the tourist office in Brussels, Belgium.
2000 – Operated as president of Societe OMNIPRESTIGE, which exported her father's paintings to the United States, until 2003.
2012 – Held first exhibition in Worth Avenue in Palm Beach, Florida.
2018 – Launched a series of limited edition graphic works, employing an innovative technique of printing on acrylic.