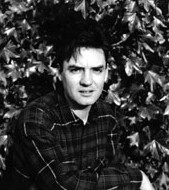 Julian Askins, born on September 25, 1961 in Monmouthshire, Wales, has gained renown for his brilliantly-colored works that capture the light, beauty, architecture, and nature of the Mediterranean, Caribbean and coastal North America. His artwork often features peaceful outdoor verandas, harbors, seascapes, and terraces that evoke a mood of joyful solitude.
Askins began to study art in the early 1980s and went on to earn a fine arts degree in printmaking from the North Staffordshire College of Technology in Stoke-on-Trent, a city in Staffordshire, England. He established a printmaking studio and gallery in 1986, which he ran for 12 years. At this time, Askins decided to focus his energy on the creation of new works, full-time.
While he lives in Wales with his wife and children, Askins travels often to find inspiration for his work. He typically photographs the scenes in the Caribbean, Mediterranean, California, and Florida that later become the subjects of his artwork in order to render them as true-to-life as possible. The end results are bold, bright works that exude the lush, tranquil beauty of the locations that provide the spark for Askins's creative imagination. His work is collected around the world and has been featured in dozens of exhibitions.