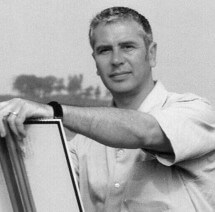 Born in 1961, John Hammond graduated from Bath Academy of Art at the age of 22 after earning a degree from Wimbledon Art College. Although early in his career he concentrated on watercolor painting, he eventually evolved in the use of acrylic painting and has been able to interpret his exacting imagery into serigraphy as well. He paints landscapes, seascapes, and cityscapes, responding to his environment with enthusiasm.
He is known for the luminosity in his work, derived from his use of rich glazes and the building up of the painting surface, known as "impasto." Hammond's work is grounded in realism and he exhibits great skill as a draftsman. His imagery however, presents a remarkable mood and powerful sense of drama, as the viewer is able to marvel at his interpretation of the beautiful scenes he chooses to depict. Hammond's works have been described as, "painterly celebrations of luminosity and color."
From his Wiltshire based studio John travels widely. John has been featured in a number of exhibitions and publications over the years, building a significant presence in private and corporate collections. He exhibits in London and has shown with the Bath Society of Artists, and the Royal Institute of Oil Painters.
His exhibitions include:
1989-1995 Bay House, Cornwall
1990-1995 Holmbury Art Fair, Surrey
1995 Thorndike Theatre Gallery, Surrey – Solo Exhibition
1996 Hatfield House Art Fair
1997 Otter Valley Open Exhibition – 1st prize for water based medium
1997 Victoria Art Gallery, Bath – Bath Society of Artists
1998-1999 Carousel Gallery, Chipping Sodbury – Mixed exhibitions
1998 Mall Galleries, London – Royal Institute of Oil Painters
1999 Rooksmoor Gallery, Bath – Best of Bath Exhibition
1999 Montpellier Gallery, Cheltenham – Solo Exhibition
1999 Mall Galleries, London, – Royal Institute of Oil Painters
2000 John Noott Gallery, Broadway – Mixed Exhibition
2000 Chelsea Art Show, London
2000 Montpellier Gallery, Cheltenham, Ten-Year Anniversary Exhibition
2000 Cornelius Gallery, Ross-ou-Wye, Mixed Exhibition
2000 Battersea Art Show, London
2000 Montpellier Gallery, Stratford-upon-Avon, Solo Exhibition