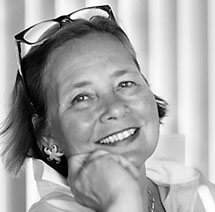 Tyka has been an artist all her life. When she was only 6 years old, she won a children's art competition, giving her the motivation to pursue her talent in painting. She was also exposed to the worlds of classical music and competitive sports, two subjects that continually appear in her work. A constant visitor of the Warsaw Philharmonic and an avid participant in her favorite sports – skiing, tennis, flying, golf, and sailing – Tyka uses her interests and hobbies to propel her painting forward.
Joanna graduated from the Warsaw Academy of Fine Arts with honors and held an exhibition at the Zacheta Museum, one of the top institutions in Poland. While her family was moving around Canada and France, Joanna moved to Germany to focus on her sailing. She worked as a sailing correspondent while she continued working with graphics, fashion, design, and tapestry. She began painting in Spain shortly after that, beginning to achieve recognition for her work.
Soon after, Tyka moved to Miami. The change in scenery altered her painting style, picking up the dynamic Latin American themes of South Florida. Her colors became bolder and more whimsical and elements of the Caribbean began seeping into her paintings.
Tyka has painted for the Princeton Boys Choir, the Philadelphia Boys Choir, and the Miami School of Music. Other organizations that have featured or commissioned Tyka's works include the Florida International University Music Festival, the Schleswig-Holstein Music Festival in Germany, Festival Miami, the Florida Philharmonic, the Miami City Ballet, Art Expo New York, Chicago and Los Angeles, the Starlight Foundation, and Norwegian Cruise Lines.
Tyka also enjoys sharing her art through teaching. She has taught art classes at the Anthroposofic Institute of Rudolf Steiner (in Germany), the Volks Schools and Miami Dade College (in Florida), the Jewish Community Center, Coral Gables Community Center, and Visual Art Center (in Richmond, Virginia). She has also studied at the Gemological Institute of America.