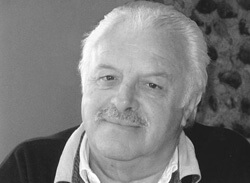 Primarily an artist with strong architectural interest, Jeremy Barlow leads the viewer on an imaginative journey through the splendors of Venice and the inviting outdoor cafes of regional France. A master of composition, he is fascinated by sunlight and his works beautifully reflect the dramatic theater of color that the sun can create. From melancholy to joy, from longing to contentment, his interplay of light and shadow creates a unique landscape of emotion that beautifully reflects the scene portrayed.
Barlow was born in 1945 at Kettering, Northamptonshire. As a child, he wanted nothing more than to be a cartoonist. However, for the time being, he settled by doodling in pencil and working with an old set of watercolors.
It wasn't until he began studying illustration at the Northampton School of Art that he was truly able to commit to his craft. He became a full-time artist in the 1970s, producing paintings as a fine contemporary artist in London and the Midlands. Within five years, he moved to Dusseldorf, Germany to paint European landscapes – especially Holland, Belgium, France, and Italy – and he began exhibiting regularly.
Barlow came back to England in 1983 and, since then, his paintings have been shown at the Royal Academy, the Royal Institute of Oil Painters, the Royal Institute of Painters in Watercolours, the Royal Society of Marine Artists, and the Royal Society of British Artists. He was elected an Associate Member of The Royal Institute of Oil Painters in 1990, a full Member of the ROI in 1994, and a council Member in 1995.
Still traveling across Europe, Barlow has continued painting the historic towns of Paris, Lyon, Amsterdam, Delft, Venice, and others, but he's frequently choosing to travel outside the major cities to towns of a smaller population. His paintings are still exhibited throughout the world, located in several collections, including that of the Dutch Royal Family. Thirty of his paintings were also purchased by the city of Delft for their topographical archives, followed by Barlow's publication, "Delft," using 24 of Barlow's townscapes.