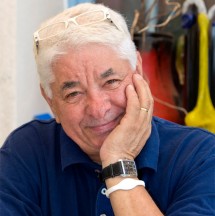 Born in Antibes, France in 1943, Jean Claude Novaro is a world-renowned glassblower. His works, once small animals being sold to tourists, are now in galleries, museums, and private collections throughout the world.
When Jean Claude was only 14 years old, he became the apprentice to a glassblower in France until he was 20. For the next 10 years, Novaro would manage production and his own apprentices at the glass factory until 1973, when he was finally out on his own. Novaro was inspired by the happenings in the United States regarding glass blowing and decided to experiment with the creative potential of glass.
He was very successful throughout the 1980s, creating lamps and sculptures. Novaro is in the Guinness Book of World Records for the largest hand-blown work ever. He attempts new techniques like hand-painting in between layers of blown glass, always working without an assistant.
Today, Jean Claude works in his studio on the Cote d'Azur of southern France with his wife, children, and their farm's menagerie of animals.