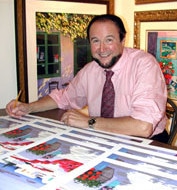 Born in Bordeaux, France, Jean-Claude began painting at an early age. He was accepted to the Bordeaux Art School, which he attended for six years. His work began to be shown in exhibitions and shows in Paris and the French provinces, and his first one-man exhibition was in 1960 at the age of only 22.
Since the age of 13, he has exhibited paintings in over 100 different shows in England, Belgium, Germany, Switzerland, Hong Kong, Japan and the U.S., among others. Carsuzan has also painted numerous murals and done mosaics for both public and private collections.
He has received commissions for his work from the French government and his sculpture can be found in corporate and public spaces throughout France. The awards he has received have been extensive, including numerous grand prizes and an honorary doctorate.