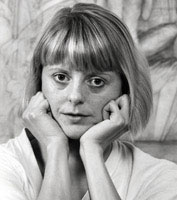 Born in 1955, Janet Treby grew up in Bedfordshire, England, in a small village surrounded by wildlife. She discovered she had an innate passion for nature and developed a love for the ethereal, eventually finding her way toward painting.
By the time she was eleven, she knew she wanted to be an artist and nothing swayed her focus. Janet was educated at the West Surry College of Art and the Slade College of Art. She specializes in mezzotint, etching, and serigraphy to illustrate the human form with grace and tenderness. Muted colors give Janet's work a dreamlike, peaceful quality. The atmospheric feeling found in her work, combined with her meticulous and highly developed drawing skills, have made her work a favorite among collectors internationally for many years.
Janet has enjoyed a career of teaching at West Surrey College of Art and Design, as well as lecturing at Ruskin School of Drawing in Oxford, Barnfield College in Luton, and lecturing on mezzotint at Southill Park College at Bracknell.
Treby resides in rural Cornwall with her family and pets, surrounded by the natural beauty that she enjoys so much.