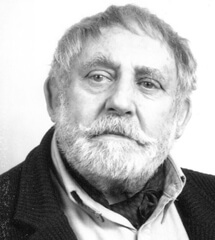 Jan Balet was born in 1913 in Bremen, northwestern Germany. The son of Dutch-German parents that divorced when he was only three, Jan and his mother moved in with his maternal grandfather at Lake Constance in Germany. Growing up, he was surrounded by friends and relatives that were well-known artists, poets, and government officials. Jan was eventually sent to a strict Catholic home for grammar school and maintained a short apprenticeship with a painter nearby. He spent a short year in Munich with his father in 1929, attending Munich's college of art. He moved back in with his mother (now in Munich) in 1930 and was expelled from the art school in 1932. Jan began his own studio for a few short years after his expulsion and finally passed the entrance exam to the Akademie der Bildenden Künste München in 1934, where he studied under Olaf Gulbransson.
In 1938, Jan was recruited by the German military so he chose to immigrate to the United States, moving to New York. He began painting furniture and doing short-term work until he found his first job in commercial art at the magazine, Mademoiselle, as an art director. He proved so successful in this field that he quickly began his own agency, working on behalf of CBS Radio, Good Housekeeping, Vogue, House and Garden, Glamour, The Saturday Evening Post, and many others. He had finally found a home in New York, living with his wife and one son, establishing American citizenship in 1945.
By the time his son was five, Balet and his wife had divorced. Jan moved to a house boat in Montauk, Long Island, setting up his studio and occasionally commuting back to the city. He began creating children's books, his first published in 1948, titled "Amos and the Moon." Shortly after, Jan traveled to Paris to visit his grandmother – his first trip back to Europe since his emigration – and this trip would have a profound effect on his future work. Upon his return to the States, he married an American model, Lisa Tallal, and moved into a house in Long Island where he would continue to work commercially until 1966.
In 1966, Jan divorced Lisa, moving back to Munich. It was at this point that he settled with his final companion, Claudia, and finally focused on his art, via paintings and children's books. In 1973 he moved to France, the country that inspired him most, and focused solely on his fine art. He found success selling his paintings while in Munich and was contacted by Circle Fine Art while in France, translating his images into lithographs in Switzerland. In 1978, he and Claudia moved to Switzerland to work on his lithography in Switzerland. He passed away in 2009 in Estavayer le Lac, Switzerland.
Revealing rare psychological perception and a wry sense of humor, Jan Balet's art represents a penetrating analysis of interpersonal relationships. Though often described as a "contemporary primitive" or "naïve" artist because of the stylized appearance of his work, Balet's art explores complex themes involving various aspects of romance and sexuality. Burgeoning passion, evolving marital relationships, illicit romantic liaisons, and erotic sexual fantasy find representation in scenes layered with symbolism and romantic intrigue often laced with delightful elements of whimsy.
Awards and honors
1947 Gold Medal, Art Directors Club of New York
1948 Best of Industry, Direct Mail Award
1948 Gold Medal, Art Directors Club of New York
1948 Merit Award, Art Institute of Chicago
1949 Merit Award, Art Institute of Chicago
1950 Merit Award, Art Institute of Chicago
1952 Award, Book Clinic, Chicago
1954 Merit Award, Art Directors Club of Chicago
1954 Award for Merit, Art Directors Club of New York
1954 Certificate of Excellence, American Institute of Graphic Arts, New York
1956 Award, Book Clinic, Chicago
1956 Gold Medal, Art Directors Club of New York
1956 Gold Medal, Art Directors Club of Detroit
1956 Silver Medal, Art Directors Club of Detroit
1957 Certificate of Excellence, Society of Typographic Arts, Chicago
1957 Certificate of Merit, Art Directors Club of New York
1958 Certificate of Excellence, Society of Typographic Arts, Chicago
1959 Certificate of Excellence, Society of Typographic Arts, Chicago
1959 Citation for Merit, Society of Illustrators, New York
1960 Citation for Merit, Society of Illustrators, New York
1960 Award, Book Clinic, Chicago
1962 Citation for Merit, Society of Illustrators, New York
1965 Grammy Awards of 1965, Best Album Cover – Classical, Robert M. Jones (art director) & Jan Balet (graphic artist) for Saint-Saens: Carnival of the Animals/Britten: Young Persons Guide to the Orchestra conducted by Arthur Fiedler
1980 Prix d'honneur, Concours International de la Peinture Naive, Morges/Suisse
1981 Prix d'argent, Concours International de la Peinture Naive, Morges/Suisse