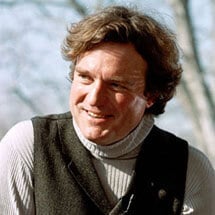 Artist James "Jamie" Browning Wyeth is a contemporary realist in American painting. Following in the footsteps of his artist father and grandfather, Jamie continued painting in the tradition of the Brandywine school, documenting the landscapes, people, and animals along the Brandywine River of Delaware and Pennsylvania. The grandson of the noted illustrator and painter, N.C. Wyeth, and the son of the famous artist, Andrew Wyeth, Jamie Wyeth was born in Chadds Ford, Pennsylvania in 1946. By 1969, he had been elected to the prestigious National Academy of Design, the youngest artist to be so recognized since its founding over 150 years ago.
Wyeth's famous portrait of John F. Kennedy, commissioned by the Kennedy family, was seen by thousands of Americans when it toured in the Bicentennial Freedom Train. The painting now hangs in the Kennedy Library in Cambridge, Massachusetts. In 1979, Wyeth was commissioned by the Kennedy Library to create an original lithograph and the official poster of John F. Kennedy for the library.
Writings on Jamie Wyeth and his work have appeared in numerous articles and books, such as ARTnews, People Magazine, American Artist, "The Wyeths," and "The Brandywine Tradition." In 1971, Wyeth designed a Christmas stamp depicting a partridge in a pear tree from "The Twelve Days of Christmas" for the U.S. Postal Service. At the invitation of the Soviet government, this accomplished artist toured the USSR in 1977 and exchanged views on art with the people.
In 1977, he and seven other internationally famous artists were selected by the Metropolitan Opera Association to create limited edition graphics and fine art posters depicting famous operas for the Metropolitan Opera Fine Art Portfolio.
Wyeth is a council member of the National Endowment for the Arts and serves on the board of governors of the National Space Institute.
Elizabethtown College, Pennsylvania, awarded him the honorary degree of Doctor of Fine Arts in celebration of its 175th anniversary with an exhibition of paintings, drawings and graphics by Wyeth, the youngest artist to have such an extensive show in the country's oldest museum.
Works by Jamie Wyeth are in the permanent collections of numerous museums, including the National Portrait Gallery and Smithsonian Institution, Washington, D.C.; Museum of Modern Art, New York; William A. Farnsworth Art Museum, Rockland, Maine; Brandywine River Museum, Chadds Ford, Pennsylvania; George Thomas Hunter Gallery of Art, Chattanooga, Tennessee; Delaware Art Museum, Wilmington, Delaware; Greenville County Museum of Art, South Carolina; and Joslyn Museum, Omaha, Nebraska.