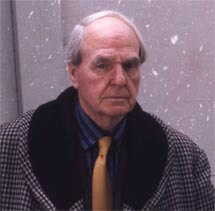 Henry Moore, an English sculptor, is best remembered for his public sculptures. Large-scale and abstract, his works often deal with the female form, postwar Europe, reclining figures, and the idea of the family.
When he was only 11 years old, Moore decided he would become a sculptor after learning about Michelangelo. He was supported by his teachers, but his parents had other plans for him. He worked briefly as a teacher himself before being called to war when he turned 18. In 1917, he was injured in a gas attack, so he spent most of the war untroubled, away from the fight.
After the war ended, Moore was able to use his service grant to go to art school in Leeds. He won a scholarship to study at the Royal College of Art in 1921, able to study the works of the top British museums. In 1924, he won a six-month scholarship to study in Italy and Paris, studying the Old Masters.
When he came back to London, he began teaching at the Royal College of Art, a position he held for six years. He married Irina Radetsky and they moved to Hampstead, living near a group of other artists, including Naum Gabo, Roland Penrose, Cecil Stephenson, and the art critic Herbert Read. After leaving the Royal College of Art, Moore went to the Chelsea School of Art.
Becoming part of the "Seven and Five Group" (seven painters and give sculptors based in London), Moore began displaying very abstract works, influenced by artists like Picasso and Braque coupled with a hint of surrealism. Moore participated in the 1936 International Surrealists Exhibition as one of the organizers and, in 1937, one of his pieces was purchased by prominent English collector, Sir Roland Algernon Penrose, which was very controversial at the time.
At the start of World War II, Chelsea had to be evacuated and Moore left his post as a teacher. He began working for the English government as a wartime artist, illustrating propaganda. This increased his exposure all over the world. When his home was bombed in 1940, he and Irina moved to a farmhouse just outside of Hertfordshire, where Moore stayed for the rest of his life, even after acquiring a significant amount of money.
When his daughter, Mary Moore, was born in 1946, Henry began focusing on family themes in his sculpting. He had just lost his mother, Mary (his daughter's namesake), two years prior and cathartically released many of his emotions into his work. Also in 1946, Moore traveled to America for the first time to New York's Museum of Modern Art for his own retrospective. In later years, seven more retrospectives would follow.
After exhibiting at MoMA, Moore's public sculptures were more in demand, finding places near Cambridge, the University of Chicago, UNESCO in Paris, and College Green near the English House of Parliament. As his fame grew, he established the Henry Moore Foundation as a charitable trust in 1972, supporting the education and appreciation of public art.
Moore, beginning in 1940, had become the voice of British sculpture. His celebrity was renowned and he left a worldwide legacy for the rest of the century. Artists for generations after were influenced by his works, casting a giant shadow over 20th century sculpture.
Moore passed away in 1986 in his home at Hertfordshire, now a 70 acre tourist destination to view his restored home and studio.