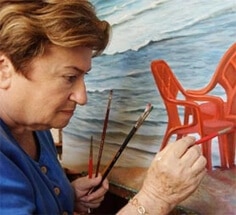 Born as Heddy Davidowitz in Elok, a small town near Zagreb, Yugoslavia, Heddy was raised by her grandparents in Budapest after her parents and one of her brothers perished at Auschwitz in the Holocaust. She and her brother, Shalom, were smuggled to Budapest in 1941, where they began their lives in the Jewish Ghetto. They lived in one large room that was shared by thirty people, wrought with cold, hunger, and disease. Eventually, she, her brother, and her grandparents moved to Peks and she was able to recover from the horrors of the war.
READ MORE +
She graduated from the Budapest Academy of Fine Arts in 1956 and left for Israel, settling in Tel-Aviv, where she married Zeev Kun. They have two children, one of which is also a painter. In 2009, Heddy went back to Hungary to film a documentary. While visiting the riverbank where thousands of Jews were killed, she was accosted by a Neo-Nazi. That experience was so chilling that Heddy has refused to visit Hungary since.
For the past 60 years, Heddy has been painting with strong, bright colors. Her paintings bridge naturalistic and impressionistic styles, focusing on the changing light and the way the sun affects the painted object. Be it mountainscape, stormy sea, or a door – her effects are achieved by short and strong brush strokes. She has an extraordinary sense of color, discernible in her still life work with flowers, as well as her landscapes. She has had one-man shows in galleries all over Israel — the Rosenfeld Gallery, Tel Aviv, the Feferberg Gallery, Jerusalem, and the Weizman Gallery, Beer-Sheva— as well as in Europe, America, and Australia. In March 2010, Heddy was granted a Lifetime Achievement Award by the International Association for Civil Rights.
The sea and sky are constantly reflected within her paintings, changing in nature. "The girl who grew up in the Jewish ghetto, experiencing the horrors of the holocaust has not allowed the war to rob her of her optimism and 'joie de vivre,'" she writes. This spirit and persistent optimism is what gives life to her paintings.