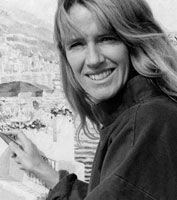 Hazel Soan was born in 1954. She studied Fine Art at Camberwell and Leicester, England, earning her degree in 1977 and the Holbrook Trust Prize in 1976. She launched straight into her artistic career, painting mainly in watercolor and oils but also in other media. Since 1993 she has run her own studio and gallery in Fulham.
She also lectures on her art, writes for numerous journals, and has given talks on the BBC. She lives part of the year on her own yacht in the Mediterranean and she spends a month each year on safari in Africa. Her art reflects her exuberance. "I love the contrasts of light and shade. The beauty of painting is that moment when I get carried away and paint without dictating the terms." Her palette is rich in color and her serigraphs are vivid and lush. They incorporate a contemporary style and a highly developed sense of light which radiates throughout her compositions.
Hazel Soan exhibits widely, with more than 25 one woman shows to her credit. She is also the author of eleven books and sixteen DVDs of mostly watercolors.
Her work is represented in private, corporate, and public collections: The National Portrait Gallery London (profile of Bill Brandt), Trowbridge Museum & Art Gallery, Chelsea & Westminster Hospital, BBC, BP, British Lung Foundation, The Lister, Ritz Club (Ritz Hotel Casino), Durban Hilton, Hotels worldwide, and the collection of HRH Prince of Wales.
She is also well known to UK television audiences through her painting series "Splash of Colour" (Anglia TV 1997/8) and role as "art expert" on Channel 4's popular painting program, "Watercolour Challenge" (2000/1/2).