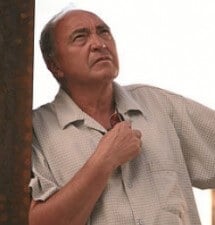 Born in Madrid, Kieff's early years were spent in the harsh tumult of the Spanish Civil War. Surrounded by uproar, fury, violence and explosion, his home was ruthlessly transformed, almost daily, into an air-raid shelter.
The image of Kieff's father marked his childhood with an irremovable scar. He remembers a man with his hands in chains, to whom his mother and siblings passed food through the iron bars of his cell. Eventually his father was freed and the family settled in Madrid. At school, Kieff showed himself to be extremely gifted in drawing and he sold portraits in the streets for mere pennies. As Kieff grew older, he worked in his father's furniture and sculpture restoration shop. During this time, he pursued studies in architecture, drama, singing, piano, and guitar.
READ MORE +
By 1967, Kieff decided to pursue his studies in one of the most important capitals of music—Vienna, Austria. The city's artistic atmosphere stimulated him as he earned his living working for antique dealers and museums.
Kieff married in Vienna, but settled with his wife in Montreal, Quebec in 1969. Shortly thereafter, he was exhibiting in various cities including Montreal, Ottawa, Boston, Hamilton, New Brunswick, Philadelphia, Dallas, Detroit, New York, London and Houston. The sudden whirlwind of success helped Kieff to forget the bombs and prisons of Madrid, the poverty, and the numerous other difficulties he encountered during the course of his life. He had his first exhibition at Galeries Moos in Montreal in 1970 and built his own foundry in 1975 in Beloeil, Quebec. In 1980, Kieff created "Turning Point," a 96-foot hydraulic sculpture at the New York Art Expo. Seven years later, "The Royal Suite," a series of polished bronze sculptures with stones, was created in 1987.
Kieff's work emerges stage by stage with elegance and the accuracy of a jeweler. From the preparatory pencil sketches through paper profiles and wood models, to the finished bronze, he is an enthusiastic explorer, creating and fashioning symbols that require no explanation.
A true artist of his time, Kieff refuses to think in terms of separate genres. His work might be defined as a musical score in sculpture, just as the early Cubist paintings were called pictorial scores. The abstract mode is indeed the mode of expression chosen by Kieff, who feels he is a sculptor in the tradition of Arp and Brancusi. Like gigantic symbols, his monumental works – standing in parks, gardens and headquarters of international companies – dominate the space around them. They testify to man's breadth of vision, to his power over the physical world, and to his constant ability to reach beyond himself.