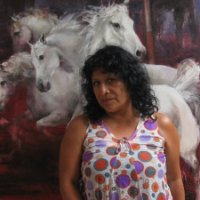 Gladys Morante began life with an aversion to horses, but through her love of art and an acquired appreciation for the animal, she is now renowned for her lively equestrian artwork that symbolizes strength and freedom.
Personal History
Morante was born in Peru in 1963, growing up as the daughter of a professional jockey. As a child, her father's dedication to horses caused her to hold contempt for the animals and anything related to them.
READ MORE +
This all changed when Morante, at the age of 14, became interested in horses and followed in her father's footsteps to become a jockey. After graduating high school, she struggled to find direction in life until fate intervened. She found purpose working as an assistant to a horse portrait artist.
The artist mentored Morante, who began contributing directly to his portraits through underpainting, which involves applying the first layer of paint that serves as the base for additional layers of paint. Morante's latent talent quickly became apparent to the artist, who suggested she join the School of Arts. She took his advice to heart and graduated with honors.
Morante initially wished to pursue cartooning, but instead took a path in advertising and design. She even considered a career in veterinary medicine with a focus on smaller animals.
"My life preferences have been around the animals, I love them. In the event I wasn't accepted at art school I would have been a vet."
Style and Influences
Morante's inspiration for portraying horses came from the beauty found in the anatomy of the animals. As she continued to study them, she was taken by their spiritual side, believing they represent freedom, strength and energy. She strives to infuse these emotions and feelings into her paintings, depicting the horses in the midst of strong movements. However, her talent for beautifully capturing the physicality of horses did not come easily.
"I had taken four years studying the human figure, but not four years of the animal figure, therefore I had to discover it by myself," she said.
Morante's technique is a combination of oil paint and various textures she achieves using everything from acrylic and cardboard to sand and pebbles. The majority of her horses are painted white to give them metaphysical and philosophical qualities. Her use of warm colors depicts vigor, while the violet tones in the faces give her horses more spiritual and celestial traits.
Accomplishments
Morante has participated in numerous exhibitions around the world, including several held at prestigious locations such as the Embassy of Spain, the United States Embassy, El Museo de la Nación, Galeria Borkas and the Russian Cultural Institute.