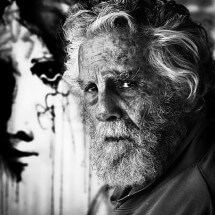 Gino Hollander was born in the New Jersey in 1924 and attended Rutgers University and Hobart and William Smith College. He had two very different careers before he began painting – the first as part of the U.S. Army's Mountain Division Ski Troop, and the second, an award-winning director and documentary filmmaker. Demonstrating his artistic versatility, Gino Hollander took up painting in 1960. From 1960 to 1962, Gino ran his first Hollander Gallery on Bleeker Street in Greenwich Village, New York.
Gino has led a very bold life, filled with excitement – good and bad – and it's showcased in his powerfully abstract paintings. He went on a 1,000 mile bicycle trip when he was thirteen, ran with the bulls every year through Pamplona, and fought in Italy during World War II (having part of his knee shot off, barely escaping). These moments in his life fill his canvases. He writes that his work "is a messy symphony, a dialectic conversation on canvas about life…life as chaos, as a mirror reflecting his stories, uniting perfectly into magnum opus."
He mingled with artist, "Jack the Dripper," also known as Jackson Pollock, raced driver Steve McQueen in his '57 Chevy, and was requested by Rockwell to paint for a presidential commission. He rescued Jacqueline Kennedy from paparazzi in Pamplona – literally on horseback – and hosted her in his studio. He has also played host to author, James Michener, and Italian opera star, Luciano Pavarotti – singing as he cooked dinner for Gino and his wife.
In 1962, just as New York was becoming the center of painting and artistic culture, replacing Paris, Gino quit his successful film career and moved his family to Spain. His wife thought he was crazy. He continued painting, at first bartering his canvases to feed his family, and then he found his success, showing his work internationally. In 1982, he and his wife opened Museo Hollander in Spain, showcasing his works for more than 50,000 visitors. In 1990, they donated the museum to the Spanish government. They lived in Aspen, Colorado until 2009, when they moved to Ojai, California.
His many collectors include: Jacqueline Kennedy, Steve McQueen, Norman Rockwell, Oscar de la Renta, Calvin Klein, HRH Queen Sophia of Spain, Burt Lancaster, Luciano Pavarotti, Norman Mailer, Jerry Lewis, and Zsa Zsa Gabor.
The artist has more than 11,000 original paintings located throughout the world and he has had one-man shows in many prestigious galleries and museums, including:
• Gstaad Palace, Switzerland
• Fran-Nell Gallery, Tokyo
• Lindstrom Gallery, Stockholm
• Casa Culturea, Malaga, Spain
• Circle Gallery, Los Angeles
• Gallerie Siglo Vente, Brussels
Gino has his work displayed in more than forty museum and public collections, including:
• Museo de Belles Artes, Spain
• Andrew D. White Museum, Ithaca, New York
• Greenville County Museum of Art, South Carolina
• Churchill College, Cambridge, England
• New York University Art Collection, New York
• DePauw University, Greencastle, Indiana
• Aspen Art Museum, Aspen, Colorado
• Vincent Price Art Museum, Los Angeles, California
• Vogue Magazine Headquarters, New York
• JFK International Airport, New York
• CBS Headquarters, New York
• Carnegie Hall, New York