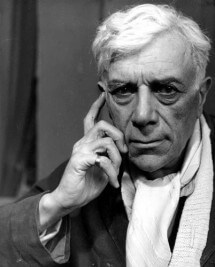 Renowned artist Georges Braque – famous for developing the artistic movement of Cubism with Pablo Picasso – was born on May 13, 1882 in the village of Argenteuil-sur-Seine near Paris, France. In 1890, Braque and his family moved to Le Havre, a port city in Normandy, where Braque initially followed in the footsteps of his father and grandfather, training to become a house painter and decorator. Braque's interest in fine art, however, was piqued at an early age and while he learned the trade during the day, he studied at Le Havre's École des Beaux-Arts at night.
Braque moved to Paris in 1900 to work as an apprentice to a local decorator. After earning a certificate in draftsmanship in 1902, Braque left the world of home painting and decorating to pursue his passion for fine art full time. He studied at the Académie Humbert in Paris from 1902 to 1904. During this period, Braque's artwork reflected the style of the Impressionists but after viewing the work of the Fauves – including Henri Matisse, Andre Derain and Maurice de Vlaminck – in 1905, Braque adopted a bolder style. Braque exhibited his work in a Fauvist exhibition in 1907 at the Salon des Indépendants.
1907 was an important year in Braque's career, with two significant events that would lead him to become one of most influential figures in 20th century art. In the fall of 1907, Braque attended a memorial exhibition at the Salon d'Automne in Paris for Paul Cézanne, the famed French artist who died the year before. Braque was inspired by Cézanne's unconventional perspective, his manipulation of spatial relationships, and the geometric rendering of his subjects. These elements would soon become the building blocks of Cubism.
Pablo Picasso also began to experiment with these elements at this time; it was in 1907 that he created "Les Demoiselles d'Avignon," which challenged traditional notions of perspective and used the geometric shapes found in tribal masks as the foundation of his renderings of the five nude women depicted in the painting. Braque met Picasso that same year and together the two artists would continue developing this new direction in art. The term "Cubism" was coined in 1908 by art critic Louis Vauxcelles, who, upon viewing a Braque work, said, "M. Braque scorns form and reduces everything – sites, figures and houses – to geometric schemas and cubes."
Cubist artwork was largely characterized by muted colors and the fragmented rendering of subjects – typically still lifes. Braque's first solo exhibit has held at the Daniel-Henri Kahnweiler gallery in 1908 where the works shown reflected his new Cubist style. Cubism quickly gained in popularity and was soon seen in artwork being created throughout Europe.
Braque continued painting in this style until 1914, working closely alongside Picasso. In 1912, the two artists began working in papier collé – "pasted paper" – and collage as well. In 1914, Braque enlisted in the French Army and fought in World War I. He endured a severe head injury while in battle and when he returned to his studio in 1917 his art became freer and his colors brighter, though he would continue to explore aspects of cubism in his work. He moved to the Normandy coast in the early 1930s and the art he created there reflected this new atmosphere, depicting the seascape and those that peopled it. Braque's work entered a melancholic phase during the late 1930s and early 1940s, though by the 1950s there was a reemergence in his work of the brighter colors characterized by his Fauve period.
In addition to his paintings, Braque created numerous lithographs, sculptures, illustrations, jewelry, and decorative art. He designed the stage decor of two Sergei Diaghilev ballets in the 1920s, was asked to design the ceiling of the Etruscan Room (Salle Henri II) of the Louvre in Paris in the 1950s, a series of stained glass windows for the Varengeville church in Normandy in 1953, and decoration for the villa in Saint Paul-de-Venice in 1954. His work was featured in prominent exhibitions, and in 1937 he was awarded first prize at the Carnegie International in Pittsburgh.
Georges Braque's passion and devotion to the arts lasted until his death on August 31, 1963. He was honored with a state funeral in the Cour Carrée, the courtyard of the Louvre. His artwork continues to be studied and admired in numerous public and private collections throughout the world and his name lives on as a father of one of the most influential movements in art history.