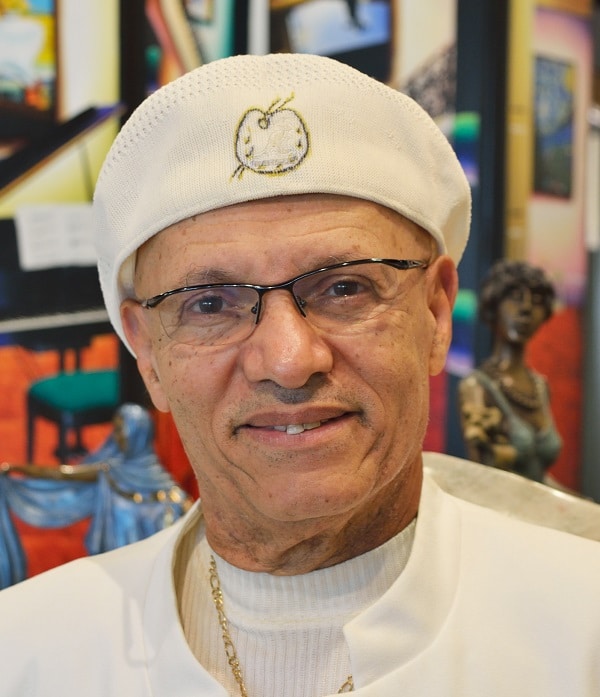 Inspired by classical and contemporary art, Ferjo has developed a worldwide reputation for his dynamic, dreamlike compositions. As an artist, Ferjo has explored subjects ranging from realism to surrealism, and his artwork frequently alludes to legendary artists like Leonardo Da Vinci, Pablo Picasso, Rene Magritte, and others. His popular Surrealist paintings of fantastical and intricate interior spaces often feature homages to his artistic inspirations hanging on the walls.
Personal History
Fernando de Jesus Oliveira—now known affectionately to all as Ferjo—was born in 1946 in Salvador, Brazil. His father was a barbershop owner, and his mother tended to their family of five sons and two daughters.
His parents had their hands full supporting and caring for their seven children, and Ferjo had to learn at an early age how entertain himself. While his brothers spent many hours kicking soccer balls in the streets, Ferjo found that his interests lay elsewhere. Soon he was drawing with crayons and paper and, amazingly, by the age of 8, Ferjo knew that his destiny was to be an artist.
His hometown of Salvador, the capital of Brazil's northern province of Bahia (the "Bay"), was founded in 1546 by the Portuguese. Its population reflects a rich mix of heritage generated by the forces of history and includes Native American, African, and Europe genealogy. In a city blessed with a diverse tapestry of architecture, art, cuisine, and music, Ferjo's young artistic impulses found fertile ground upon which to grow.
Coming from a working-class family, Ferjo did not enjoy the privileges of upper-class children. Art school and instruction were beyond the modest means of his parents. Thus, he had to draw from gifts within himself to develop as an artist. This self-reliance saw him through much of his early life. His art became both his devotion and his refuge.
Reaching his early 20s, Ferjo, like many artists who start out as self-taught, felt the need for academic training. He was eager to perfect the technical skills he believed were necessary for him to express himself at the highest level. He enrolled in the Federal Art School of Salvatore. He spent the next few years alternately studying and painting to support himself.
He continued in this way through the remainder of his 20s, building a local following by painting portraits and other works. Then, in 1992, a fortuitous meeting changed his life. He caught the eye of Jose Vaz Espinheira, who at the time was the President of "Partners of America," a privately-run cultural exchange between Bahia and the city of Philadelphia in the United States. Struck by the immense talent of this young artist, Senor Espinheira became his patron and, through this connection, Ferjo received a scholarship to study at the Pennsylvania Academy of Fine Art in Philadelphia.
Ferjo was now able to devote himself entirely to art. Graduating after four years of study, he received numerous prestigious awards. He so impressed his professors and the art department chairman that he was awarded a special fellowship to study in Europe. Thanks to this once-in-a-lifetime opportunity, Ferjo was sent to many of Europe's great cities to tour their museums and study the great European masters. He spent many hours in museums such as the Louvre and the Prado, absorbing the techniques and concepts of artists from Rembrandt and Vermeer through Dali and Picasso.
Ferjo returned to Philadelphia newly inspired. In one of his first works referencing the masters, he created a portrait of his school's faculty in the style of Da Vinci's "The Last Supper." This work was greeted with great acclaim and was the subject of numerous magazine and newspaper articles. It was purchased by the Brazilian government as part of the state's museum collection.
He spent a year teaching, but his passion to paint could no longer be contained. He resigned from his teaching job—it was now time for him to become a full-time professional fine artist. Now all the practice, training, and study of the masters came together. Soon the unique style that is instantly recognizable today as Ferjo emerged.
A mix of Magic Realism and Surrealism with Cubist influences and historical references to the great masters, Ferjo's work fascinates, intrigues, and charms. He creates not just paintings, but mythical worlds to discover.
Soon his paintings were displayed in galleries all over the United States and Canada. A string of sold-out one-man shows followed, and Ferjo never looked back. His paintings and prints hang in the homes of innumerable collectors. Two books have been published cataloguing his work, and his reputation has spread far and wide.
Despite his phenomenal success, Ferjo remains hard-working, humble, and appreciative. Upon meeting him, one is immediately taken with his warmth, kindness, and charm. A true artist, he lives to paint. Each day, he gets up at 6:00 a.m. and is ready to greet life. However, it's first things first. "I can't live without my Big Breakfast," he will tell you with a smile. After finishing up his eggs, sausage, avocado, tomato, and whatever else may be in the fridge, Ferjo is ready to start painting.
To own a Ferjo painting is to share in his gift of magic, wonder, joy, and discovery. It is a gift that he happily shares with all.
If you're interested in collecting the art of Ferjo, contact our gallery consultants at (800) 521-9654 ext. 4 during business hours or sales@parkwestgallery.com.