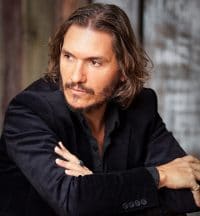 Award-winning artist Fabian Perez believes the purpose of art is to preserve the beauty found in our world. His moody, noir-like paintings invite the viewer to imagine what his subjects are thinking, thereby creating a dialogue between artist and observer.
Perez has served as an official Olympic artist and has held more than 200 solo exhibitions around the world, fascinating collectors with his paintings of sensual women, delectable wines and spirits, and glamorous characters of the night.
Perez has also gained an international reputation as one of the most accomplished portrait painters of the 21st century, including a Vatican-commissioned portrait of Pope Francis.
READ MORE +
Personal History
Perez was born in 1967 in Buenos Aires, Argentina. His father, a heavy gambler, owned illegal bordellos and nightclubs for a period of Perez's childhood. His mother, a schoolteacher, had a penchant for the arts and encouraged her son to develop his own artistic talents.
Perez enjoyed drawing from an early age, but he was just as passionate about soccer and martial arts. As a young adult, he decided to take a few art courses to learn more about the craft of drawing and painting, but it was never formal training. Little did he know that both art and martial arts would become an integral part of his life and career.
"I remember at the age of 11 quitting my first [art] class because there was a World Cup soccer match," Perez says. "I did not take art classes in school, or even finish high school, but when the teachers wanted a drawing of, say, an Argentine hero, they always came to me."
Tragedy struck Perez in his teenage years with the death of both his parents. His mother passed when he was only 16 years old, and his father when he was 19. Perez was forced to live a nomadic existence for several years following their deaths. He found inner strength through his fervor for martial arts, and devoted himself to the discipline.
He began teaching karate lessons while living in martial arts studios or the homes of friends. It was during this time that he crossed paths with Oscar Higa, a Japanese karate master, who eventually became Perez's teacher, mentor, and friend. Perez continued to move around frequently, finding refuge on warm beaches in Rio, before deciding to follow Higa to Italy.
In the small town of Padova, located outside of Venice, Perez started his career as an artist. European tourists were drawn to his works, and he began holding small art exhibitions. He split his time between painting and teaching martial arts in order to support himself.
After spending seven years in Italy, Perez moved to Japan and continued to teach karate. Inspired by the Japanese calligraphy practice known as Shodo, Perez combined figurative and abstract imagery in his art to create his own unique style.
Perez now resides in Los Angeles with his wife and three children, where he also maintains a studio.
Style and Influences
Perez is influenced by legendary artists such as Henri de Toulouse-Lautrec, Pablo Picasso, John Singer Sargent, and Paul Cézanne, but his style is truly his own. Perez created a new style of painting called Neo Emotionalism, which focuses on dramatic narratives and atmospheres characterized by heavily contrasted light and shadow.
"I compare my color and technique with music and rhythm, the subject matter and composition with lyric and poetry," Perez says. "When music is gentle, people will listen to it."
Perez prefers figurative art over abstract styles, believing figures embody a moment in time and are therefore the most challenging to paint. He says he doesn't know the motivations or thoughts of the subjects in his paintings, instead leaving it to his audience to decide what they're thinking.
Memories and images from his past inspire the subjects of his paintings, including scenes from his youth in Argentina. Perez says the figure portrayed outside the nightclubs and bordellos in several of his works is based on his father, while the sensual, brooding women are inspired by the women he saw at his father's establishments.
While his inspiration draws on a painful past, Perez's works do not exude darkness or despair. Instead, they portray a romanticized time; a world that, while firmly based in reality, is idealistic and beautiful.
"What painting means to me is that I escape from the world I don't like," Perez says. "I feel so comfortable doing it."
Along with memories of his past, Perez also features his wife in many of his paintings. He enjoys painting in the morning and early afternoon, and prefers acrylic over other mediums for its fast-drying properties.
Perez paints using both live models and photographs of models. It takes Perez an average of 15 to 20 hours to sketch a painting and a week to complete it.
The technique of Shodo is typically used to create Chinese or Japanese characters (kanji and kana) with a focus on accuracy and balance. Studying Shodo taught Perez the importance of dedicated brush strokes in his artwork, both with his technique and color choices.  Whether he's portraying clinking cocktail glasses or a woman seductively holding a cigarette, Perez is a master of balanced compositions.
Accomplishments
2009 – Official artist for the 10th Annual Latin Grammy Awards
2010 – Official artist for the 2010 Winter Olympics in Vancouver
2011 – Designed the trophy given to the best player of the Soccer American Cup in Argentina
2012 – Official artist for the 2012 Summer Olympics in London
2012 – Painted a portrait of professional soccer player Leo Messi. A copy was given to the Argentine government
2015 – Presented Pope Francis with a portrait that the Vatican commissioned
2017 – Received the ATIM Master Inspiration Award from ArtTour International Magazine
2017 – Commissioned  to paint a portrait of Mauricio Macri, President of Argentina