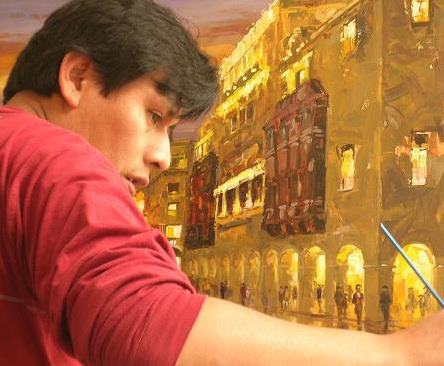 Sprawling cities might seem boisterous to some, but for Peruvian artist Eugenio Cohaila a bustling city is a source of inspiration.
Through a command of light and movement, Eugenio takes the ordinary trappings of urban settings—cityscapes depicting crowds of people shuffling through a brightly-lit street—and transforms them into something grander.
Simply known as Eugenio, he is one of the most promising Peruvian artists working today.
Personal History
Eugenio was born near the city of Tacna, Peru on a modest farm. From an early age the young artist showed proficiency in creating art. In school, his teachers often requested that Eugenio draw, on site, a scene to commemorate their class field trips.
Despite his talents, Eugenio's father wanted his sons to stay on the family farm and work the land. Eugenio's mother, recognizing her son's passion for art, instead sent him away to study at secondary school. For five years, the 7-year-old Eugenio and his older sister lived on their own, without their parents, in a small apartment in Tacna. Their mother would visit every week.
In high school, Eugenio excelled in his art courses. A year before graduating, he won an art competition with a drawing of the main character from a classic Peruvian tale. After graduating, his aunts encouraged him to become a professional artist.
Eugenio enrolled at the Beaux-Arts Superior School of Tacna, where after five years he graduated with the second-highest grade in his class. It was here where Eugenio first experimented with oil painting techniques. Following graduation, the artist worked as an assistant at a workshop making drawings for oil reproductions of Dutch Golden Age artists like Rembrandt and Vermeer. This sharpened his artistic techniques, allowing him to make a living selling his own artwork.
In 1994, Eugenio broadened his education with post-graduate studies in painting at the Escuela Nacional Superior Autónoma de Bellas Artes del Peru in Lima. In Lima, the artist became inspired by Peruvian artist Szyszlo, whose colors and rich, textural effects continue to influence Eugenio's paintings to this day.
Style and Influence
Eugenio draws upon philosophy, history and literature for inspiration, and defines the mood and emotions of his work using color.
Using oil paint, Eugenio depicts urban scenes in a wistful Impressionist style. As a self-professed admirer of color, his compositions feature vivid hues and radiate with light, a reflection of the artist's fascination with city life.
Eugenio elects to paint people as blurred subjects who almost blend into the scenes around them. This stylistic choice, executed through his unique brush style, shows the harmony of millions of people living and working in the same space. Eugenio's style shares similarities to the work of Impressionist Claude Monet, but the artist leaves his own mark with his distinct color palette of fiery oranges and golden yellows.
Eugenio's mastery of contrast and movement in his paintings bring them to life, as if the viewer could step into the painting and explore the cities for themselves. Eugenio's favorite city to portray is New York City, a metropolis that captivates the artist due to its constant activity.
Despite his love of urban life, the artist occasionally departs from his depictions of busy streets and instead re-imagines natural environments. Eugenio's brightly-hued landscapes veer into the abstract, effectively using negative space and minimalism to conjure dreamlike scenes.
Accomplishments
Eugenio has participated in more than 50 exhibitions, including exhibitions hosted at the Municipalidad de Tacna, Peru's U.S. Embassy, and the Banco Continental Gallery.
Additionally, Eugenio has also exhibited at the Peruvian Presidential Palace as well as the Peruvian Parliament. The Mercosur in Argentina, the Historical Archive of Sinaloa in Mexico, and the Town Hall of Sucre in Bolivia have also hosted Eugenio's art.
Eugenio won first place at Tacna's urban mural contest. The artist also earned honorable mention at Tacna's Quinto Lazo contest in 1994.
His plein air paintings have also received recognition. Eugenio received second place in the First Concurso de Pintura Rapida (Plein Air Painting) de Moquegua in 2012 and an Honorable Mention in the First Concurso de Pintura Rapida (Plein Air Painting) de Cajabamba in 2013.
The 2017 Telluride Jazz Festival in Colorado chose one of Eugenio's original works of art to serve as the basis for the event's official poster.