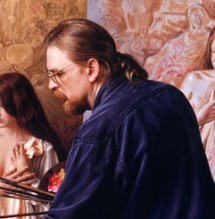 Douglas Hofmann was born in Baltimore in 1945. Hofmann originally attended business school but only lasted a few short months, realizing it wasn't for him. He began working in a department store as a window trimmer, learning about design and color theory, which inspired him to try his talent at fine art. He enrolled at MICA (the Maryland College Institute of Art) which, at the time, was his local art school. He received his BFA from MICA and moved to the International Fine Art Gallery in Washington, D.C.
In 1977, Douglas began his relationship with Circle Fine Art Gallery, exhibiting across the United States and Canada. Working with Jack Solomon at his galleries pushed Hofmann to learn the medium of lithography – a brand new experience for him. Used to working alone, with lithography, Hofmann relied on the expertise of the printer. Eventually Hofmann mastered the medium, awarded by the Society of American Graphic Artists.
Hofmann is the recipient of numerous awards and prizes, including first prize at the Peale Museum, Baltimore; "Best Painting in the Traditional Manner," Baltimore Museum of Art; "Best in Show," Washington County Museum, Hagerstown, Maryland; "Best in Show," Center Club, Baltimore; and the John F. and Ann Lee Stacey Scholarship Fund Grant.